A flat-out week preparing three horses for the Appaloosa Horse Club UK National Show and then the weekend was no different as we helped celebrate their 18th anniversary at Moreton Morrell College in Warwickshire.
We took three Redhearts, our Stallion Blu who excelled in his presence, standing quietly in the warm-up and ring even with the mares, such a sweet boy. Guilty as charged, he made an awful sound by grinding his teeth for his two first classes but this thankfully disappeared after he had a wee 
 He competed in a variety of classes, always in the ribbons but his highlight was winning the UK Stallion Class and taking the Championship, awarded the Tiptoe Stud Shield, this was the only class I managed to stop him grabbing his chain in the trot up which was very frustrating!!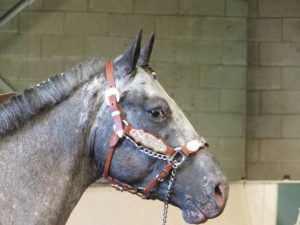 The only Redheart under saddle is Reus, the Western classes were Trails and we progressed nicely. Reus was scared of the bridge and the blue sparkly rope to the gate but we completed the course…eventually! We then changed to English and although we need to work on our "up and down" transitions he rode willingly in our Equitation classes, winning his first class and being placed second in the Open. I really could not have asked any more from this chap.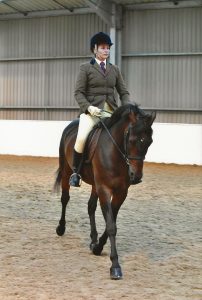 But, the day was stolen by Reus's son Redheart Reality. For his second show and the first time in an indoor arena, he didn't disappoint us. Winning the Most Colourful UK and the USA being awarded the Rhodes Appaloosa Trophy, then taking Reserve Champion. He then won his age group in UK and USA gelding, taking the Reserve Champion and finally completing his day with Reserve Champion Youngstock. He's such an awesome yearling, a delight to be around and so easy to deal with.
All three Redhearts excelled themselves, I couldn't be more pleased.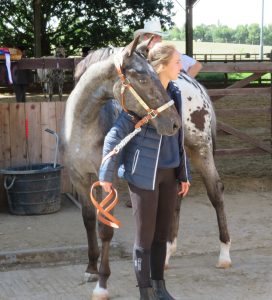 A very special thank you to my neighbour Abbie Lovegrove, who was an A* groom for me on Saturday, so very much appreciated.
The National shows take months even a year to organise and I write on behalf of the ApCH UK members, thank you to ALL the hard-working stewards, supporting volunteers, the ApHC UK directors and the Judges for organising such a wonderful event x