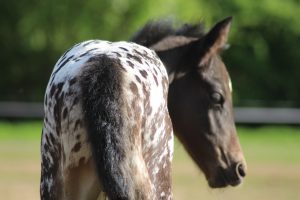 Redheart Reality
Princesse Pascale x Hevans EV Catorrius
AKA – Tally
Born 27th April 2017
Gelding
100% FPD
BApS Stud Book
FAHR – 67.529
Tally is out of our imported mare Princesse Pascale with frozen semen from our Stallion Reus. This is our first home bred foal by Reus and we are delighted with this mating, the sire and dam have complimented Reality with pure quality.
A black (EE Aa) who has inherited one copy of the Leopard Complex gene and one copy of the Pattern 1 gene. Certified negative for PSSM1 – Polysaccharide Storage Myopathy, HERDA – Hereditary Equine Regional Dermal Asthenia, GBED – Glycogen Branching Enzyme Deficiency, HYPP – Equine Hyperkalemic Periodic Paralysis Disease, MH – Malignant Hyperthermia and Grey gene.
He is registered with the Appaloosa Horse Club, enrolled in their Foundation Pedigree Designated programme at 100% FPD. He's on the "A" register with the Appaloosa Horse UK with a passport over-stamped by British Appaloosa Society as STUD BOOK, he is also registered with the Foundation Appaloosa Association but not eligible for Foundation Appaloosa Horses Registry.
He leads, loads, travels very well alone or with others on a lorry, ties and is happy to be bathed. He is content to leave the herd and is confident to be taken on walks. He is very good for the farrier, well mannered and has no vices. He is up to date with worming and has received the first three flu and tetanus vaccinations.
His debut outing at Royal Windsor in May 2018 was one of Redheart Appaloosas biggest achievements, gaining the first place in the youngstock class (against seasoned two and three-year-olds) enabled him to compete in the in-hand championship, where he gained an In-Hand Reserve Champion from the over four-year-old Appaloosas.
His second outing was the Appaloosa Horse Club UK National Show, where he didn't disappoint us, winning the Most Colourful UK and the USA being awarded the Rhodes Appaloosa Trophy, taking Most Colourful Reserve Champion. He then won his age group in UK and USA geldings and the USA FPD Halter Geldings Class. Finishing his day with UK Reserve Male Champion, USA Reserve Male Champion, and Reserve Champion Youngstock.
His third and final show for 2018 was the British Appaloosa Society National Show, what a way to end a season, being placed in his age class put him forward for the Championships. Taking the Reserve Champion Youngstock, the Reserve Male Championship and wait for it…the Reserve Supreme Champion of the show!
Expected height 16hh+ and with an athletic build, he could easily compete in any discipline but the comments from those who have judged him say, "definite dressage potential". Time will tell…
Redheart Reality's success in 2018 was rewarded with a certificate of recognition for Outstanding Achievement called a Register of Merit (ROM) award for HALTER by the Appaloosa Horse Club UK.
FOR SALE £4500
British Appaloosa Society Registration
Foundation Appaloosa Association