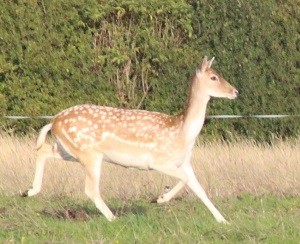 This is the deer that lives around here…..a wild beautiful creature that we see quite often. It's never that close to the horses but if she see's you she's gone! My daughter captured this gorgeous photo a few weeks back and as you can see she fits in quite well with the Appaloosa's, although she does have more spots than most of the Redheart Appaloosa's!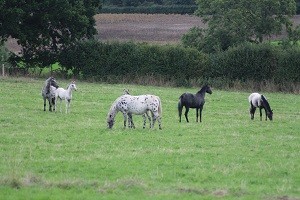 The horses are all settled BUT when the deer is hiding in the hedge, then it only takes one horse to convince the other horses there is a lion, tiger, or bear hiding…..
On this occasion it was Evee….
*******************************************************************************************************
Tail up, snorting and running around the other horses aimlessly until they agreed….run for your life !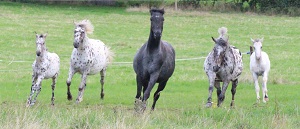 ---
It wasn't long before they were just trotting around wondering what they were running away from?
PP and Ben stayed close…..
So did Catori and Blanc……
I adore seeing the 2015 foals move, it doesn't happen very often but when it does it's just lovely!
They show the extent of movement they have, hold them selves and look outstanding.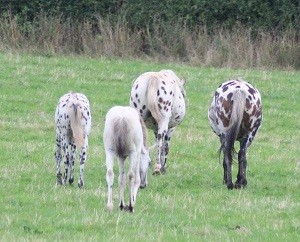 It's not long before the adults take charge and set the example, back to grazing thank you Evee.
Easter the yearling was the only one that was either prepared to stay and fight or may be she saw the deer and was confused why Evee was so scared?
Either way, she is so laid back neither a deer or her half sister was going to disrupt her grazing.
Despite the horses seeing the deer most days, they usually don't bother to even acknowledge it but some times, just sometimes it's O'deer….