We join the many people who appreciate the beauty of sunrises and sunsets, moonlit halos and anything else Mother Nature throws at us…
During the beginning of October we've witnessed several evenings with a red sky but to capture an image with such beauty requires Appaloosas here at the Stud!
You can't make animals in a herd, naturally, stand and pose for you, so you waited and wait and wait! Until, eventually, during the "movement" of grazing, you catch that split second of "the shot". Here it is, with our two main mares…
Peyres Catori Cat & Princesse Pascale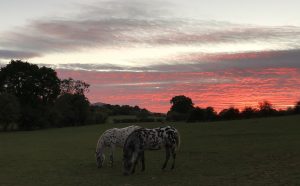 Red sky at night, Appaloosas delight!