This morning we headed off to the American Pleasure London Counties Horse Show run by the United Saddlebred Association-UK – American Saddlebreds. A wonderful opportunity for us to compete with the Foreign Breeds.
Our two and a half hour journey was straight forward and the M25 was clear during the early morning……We only had Hevans EV Catorrius / Redheart Catorrius on the lorry as poor Redheart Pascalius was still recovering from her slip at the ApHC UK Southern Show, fingers crossed for the hair to regrow before the ApHC UK National Breed Show.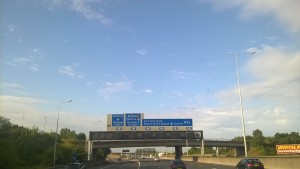 We had a wonderful day competing in a handful of classes against some stunning seasoned horses.

After a successful day unfortunately our journey home was spent sat on the M25
BUT
It's my pleasure to be promoting the Foundation Appaloosa……..