When it comes to Appaloosas and you have a Stallion that can pass his cream gene on to his off spring, we do not take for granted what we see before us, we have to test.
The cream when inherited does not show on black, it's quite obvious on a new-born bay's as it turns the red pigment into a golden colour, evidently known as buckskin.
Our two bay foals Rookie (left) and Reflection (right) are both EE Aa and both have inherited the cream gene, making them buckskins.
Our two black and white foals Revelation (left) and Relentless (right), look black and white! You can not tell if they have inherited the cream gene. They are both homozygous black (EE aa).
Only genetically testing has confirmed our filly Revelation has inherited the cream gene, our colt, Relentless has not inherited the cram gene.
Revelation's black markings will eventually turn a beautiful blue/grey colour whilst Relentless will stay with that sharp black and white appearance.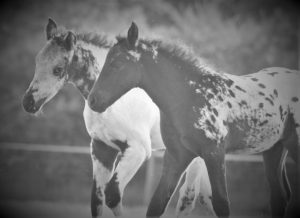 Sometimes black and white is not always black and white…