1st June 2019, will not forget this day in a hurry…
Up at 4 am, bathed and plaited Reus and bathed and braided his son Reality who both had spent the night out.  On the road to Farnham in Surrey, we missed the exit off the M4 and then we got back on track we hit the diversions, annoyed but calm I drove very carefully as we negotiated roundabout after roundabout. I gave in to the fact we may have missed Reality's in hand classes but we may just make it in time for the ridden with Reus.
Arriving at the showground the wonderful Matt Ayling, the top man for the ApHC UK First Aider very kindly opened the gate, how amazing does such a small gesture make you feel. From this moment the day unfolded remarkably well. Our first sight as I jumped from the lorry was our 2018 filly Ru, we sold Ru to Wendy Fitzgerald and Ru was having her first outing, she looked amazing and as I shouted her name across the car park in that stupid high pitch Ru Ru, her head shot up and a whinny called back to me, well my heart melted.
We quickly got changed, unloaded Reality and went straight into the ring, he had no time to look and never batted an eyelid at his new surroundings. Walk, trot and halt, perfect and so we continued in the soaring heat. He collected the first place in his age class in UK and USA, he went Male Champion, Young-Stock Champion, USA Champion and Supreme In Hand of the Show – What a superior horse he is without question.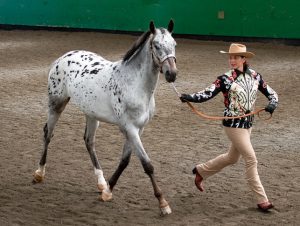 Redheart Reality Male Champion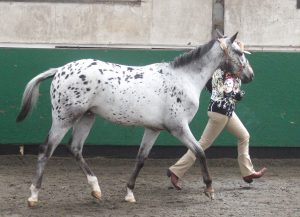 Redheart Reality Young-Stock Champion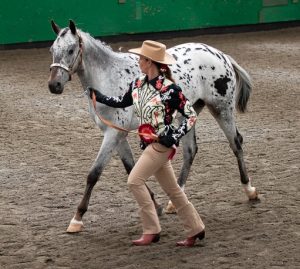 Redheart Reality USA Champion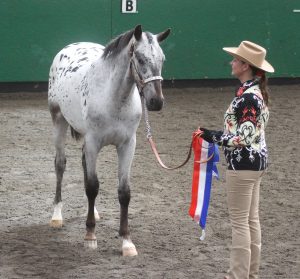 Redheart Reality Supreme Champion
We can not express in words how wonderful it was to see RU do so well, she also took the winning places in the female classes taking the Reserve In-Hand Champion.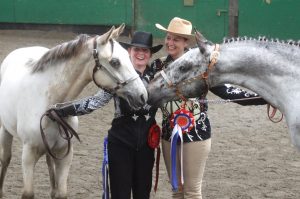 Redheart Appaloosas
No sooner had the in hand finished, Reality went back on the lorry and Reus came off, tacked up, quick change and on with the ridden. We didn't get chance to warm Reus up, I was not going to ask him to make a shape and look like a horse that was ready to compete for a show, we let him walk and trot around, using our first class to our advantage, make no mistake he certainly looked like a horse that had just come straight off the lorry! But, after our second show, I pulled him together, put my legs on and squeezed him up.  Well what a transformation, he carried me, he felt under me and so responsive, we actually did a half pass on both reins to get back to the rail, I felt a sense of happiness and fulfillment even if we hadn't got placed I would have been satisfied that our transition from Western to English was coming together, albeit slowly.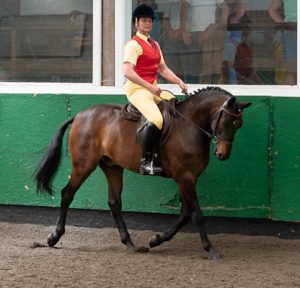 Hevans EV Catorrius Ridden Champion
And there we go – Ridden Champion, could not believe it but I do believe the judge had seen a huge transformation and credited us with the potential Reus was showing and deserved.
We are not ones to hang around after competing, we have a lot to do at home and getting the horses back is always a top priority. We set off with an eta home of 5.30pm, brilliant I thought, I'll do this that and the other…It wasn't meant to be,  as that rumbling noise came we knew a tyre was about to blow, hazards on as we drove a few more miles at 20mph to junction 3 of the M3. With the rescue on its way, we parked on a lane under some trees for shade and gave the horses a haynet and offered them a drink whilst we waited for Mr. Tyre Man.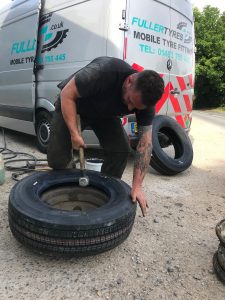 Reus and Reality without question are true soldiers, it was a few hours before we could set off again, our new eta was now 9.46pm. We arrived safely home, horses turned out, a large G&T for me and bed.
I never take for granted our horse's success but sometimes it's not what goes on in the ring but outside the ring that makes me so very proud of them.