Our four broodmares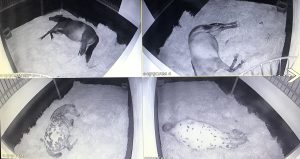 They are all showing the right signs for foaling, some more than others but one thing we religiously do is watch them closely.
Our two broodmares Catori and PP (bottom left and right) are 342 and 341 days gestation. Our maiden mares Myka and Evee (top left and right) are 340 and 320 days gestation.
They're all in a similar routine and enjoy a lie down for a few hours before midnight!