Back at the wonderful equestrian venue of Hartpury Equestrian College, we see DFR Patahas Redheart our two-year-old colt and Caricks Redheart our three-year-old filly finish their 2017 showing campaign.
We have a huge commitment to build a stable barn before the winter so our 2017 showing season must end!
The Redheart young stock did well, DFR Patahas Redheart gained the second place in the Sports Horse in hand (on a triangle), a fifth place in the most colourful blanket and another second place in the licensed stallion class with an award for the Highest Grade.
Caricks Redheart finished her 2017 campaign under the skillful handling and running of Crystal. A well-deserved fourth place in the Best Conditioned along with a Best Turned Out award, a fifth in the Riding Horse in hand, a third in the Most Colourful Other, a win in the two and three-year-old fillies with another award for the Best Turned Out and an award for the Highest Grade. The icing on the cake was a Reserve Champion out of the Females.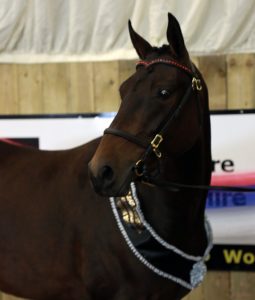 A well-supported show as always and an honor to be a member of the British Appaloosa  Society.
Smiles all-round!
A rewarding finish to 2017 at the British Appaloosa National Show.