Today was a short journey for Hevans EV Catorrius, to Moreton Morrell in Warwickshire for the Foreign Breed classes held under the Saddlebred Association.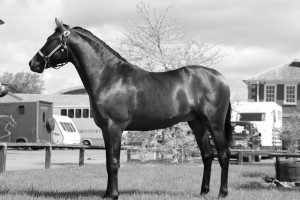 He took first place in "Foreign Breeds Coloureds In Hand" any age, judged on 75% confirmation 25% colour. The second class was another first place in the "Open Foreign Breeds In Hand" any sex, under three years old! Delighted! Hats off to Reus for his second show of 2014.
The Championship proved to be a different story! Reus stood beautifully at the end of the line for ages whilst the judge inspected the others! As the judged approached us, Reus's patience had gone! Toys thrown out of the pram…….this lack of ability to suppress restlessness in a long time line up is going to become familiar!
Hevans EV Catorrius