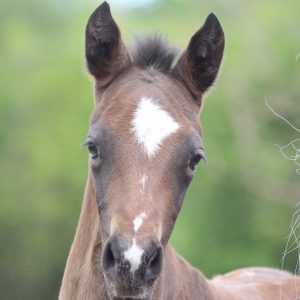 Redheart Regent
AKA – Regent
Peyres Catori Cat x Unknown Stallion in Spain
Born 21st April 2017
GELDING
ApHC UK – #1850 – Part Bred
BApS – #1775 – Part Bred
Congratulations and good luck to Charlotte in Rochdale
Regent is out of our imported mare  Peyres Catori Cat. Unfortunately, after his DNA was typed it was clear his Sire is not Kiss My Finest Heart. The semen has been DNA typed and confirmed to be from another Spanish Stallion. We are obviously shocked and devastated by this finding, as is Tracey Parker, the owner of Kiss My Finest Heart, who has willingly cooperated to clarify this concern. We are just thankful we have a healthy mare and foal!
Regent is registered with the Appaloosa Horse Club UK and British Appaloosa Society as a part bred.
A bay (Ee/AA) who has inherited one copy of the Leopard Complex gene and no Pattern 1. We anticipate a huge colour change as we expect him to become a varnish bay roan.
Certified negative for the 5 Panel Test ( PSSM – Polysaccharide Storage Myopathy – (PSSM1), HERDA – Hereditary Equine Regional Dermal Asthenia, GBED – Glycogen Branching Enzyme Deficiency (GBED), HYPP – Equine Hyperkalemic Periodic Paralysis Disease (HYPP) and MH – Malignant Hyperthermia, Grey gene and Squamous Cell Carcinoma (SCC).
Regent is a very handsome gelding with a huge amount of presence, he has inherited good bone and height from his sire, has correct conformation and a wonderful kind personality.
He leads, loads, ties and is very good for the farrier. He is up to date with worming and flu and tetanus vaccinations.
We look forward to getting him in the ring, expected height 16.2hh and with an athletic build, he could easily compete in any discipline.
2019 – Regent's debut outing was a big ask a Royal Windsor, he didn't let us down by winning his class and taking the overall in hand Reserve Champion.
His second & third outing at the ApHC UK & BApS National Shows certainly was not disappointing, he was placed in some large classes and performed like a pro, unfortunately he did look rather weak against the more precious young stock but we are very proud and await his maturity to develop!
2020
Due to Coronavirus (COVID-19) pandemic Regent will not see his final year in-hand showing, he has been "started".
2021
We delivered him to his new owner Charlotte, who has kept us up to date with his progress, we are so proud of them both…
Half Pedigree HERE
Regent's page shall remain here and be updated as and when we receive notifications of his progress through life!