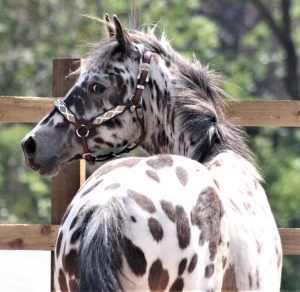 Redheart Reflection
AKA – Marty
Caricks Redheart x DFR Patahas Redheart
Born 28th April 2019
GELDING
ApHC  #687473  –  100% FPD
BApS  #3954 – GRADE A
ApHC UK  #1967  –  A Register
FAHR – 67.8711%
Congratulations and good luck to the new owner of Marty – April Wood
Marty is out of our mare Caricks Redheart, inseminated with fresh semen from our Stallion DFR Patahas Redheart. This is our first home bred foal with this combination and what an adorable foal they have created.
Certified negative by parentage for PSSM1 – Polysaccharide Storage Myopathy, HERDA – Hereditary Equine Regional Dermal Asthenia, GBED – Glycogen Branching Enzyme Deficiency, HYPP – Equine Hyperkalemic Periodic Paralysis Disease, MH – Malignant Hyperthermia, Grey gene and Squamous Cell Carcinoma (SCC).
He is registered with the Appaloosa Horse Club,  the Appaloosa Horse UK and the British Appaloosa Society.
Bay (EE Aa) with one copy of cream (CR/cr) making him a buckskin leopard. He's heterozygous for Leopard Print (LP/lp) and homozygous pattern (PATN1/PATN1). Reflection is the reason we chose to test for the Dun gene, his phenotype is quite unique in my mind and as it is with Appaloosas, they always surprise you!  Very much curiosity but the results proved correct, his dam Caricks Redheart carries the gene nd1, a gene found in Dun's that can show primitive markings. He has inherited nd1 (nd1/nd2) not to be confused with the Dun gene that affects colour dilution.
Expected height 15.2hh.
Full sibling to Redheart Romance & Redheart River Run
Full Pedigree HERE
2019
Sold but due to COVID, remained at the Stud until restrictions were lifted. He will be a life long partner with his new owner who is 11 years old!
2020
A huge surprise, Lian left her trailer at the Stud for us to trailer train Reflection, he was so good that it was decided he would leave that day. All we had to do was find some blue ribbon because April didn't know…A few tears of joy… This is the start of a beautiful relationship.
2021
A enormous amount of horsemanship developing between April and Marty, we have witnessed the most incredible trust between them.
2022
We have witnessed April investment her time in Reflection, continuing to build on their relationship. The trust, confidence, patience, respect, and fun we see makes us so very proud.
Marty's page shall remain here and be updated as and when we receive notifications of his progress through life!