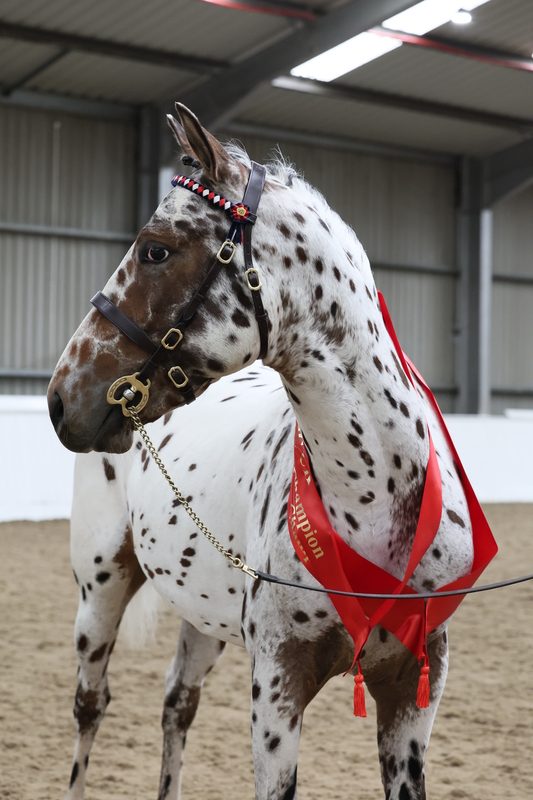 Eagles Fire Illusion
AKA – Fire
Born 10th June 2020
STALLION
ApHC # 690165 – 100% FPD
Appaloosa Horse Club UK Stallion License – # 117
BApS #3989 – GRADE B
British Appaloosa Society Stallion License – # 310
ApHC UK #2040 – A Register
FAHR – #1102 – 91.4062%
Kates Illusive Star x DREA Sixeagle Fire
Fire is our new imported colt, bred by Oskar Reis in Germany. A colt bought for his statue and Blood Line to compliment our mares and enhance their Foundation Blood Lines.
Certified negative by parentage for PSSM1 – Polysaccharide Storage Myopathy, HERDA – Hereditary Equine Regional Dermal Asthenia, GBED – Glycogen Branching Enzyme Deficiency, HYPP – Equine Hyperkalemic Periodic Paralysis Disease, MH – Malignant Hyperthermia, Grey gene and Squamous Cell Carcinoma (SCC).
Fire is registered with the Appaloosa Horse Club, the Appaloosa Horse UK, the British Appaloosa Society and the Foundation Appaloosa Horse Registry.
Bay (Ee Aa) leopard, heterozygous Leopard Print (LP/lp) and Pattern (PATN1/patn1).
Expected height 15.2hh.
Full Pedigree HERE
July 2021 – Arrived safely at the Stud – a huge thank you to Adam Gibson Transport
After two weeks in isolation we started working with Fire and getting him ready for his 2021 showing debut.
2021
The ApHC UK National Show 
4th – Riding Horse Type – (awarded highest placed yearling rosette)
6th – UK Most Colourful
1st UK Young Stock Colts – (awarded Mac Dougall Salver)
UK Grand Champion Stallion
The British Appaloosa Society National Show
3rd  – Riding Horse Type
1st – Yearling Fillies/Colts/Geldings Class
Champion Main/Annexed registered Young Stock
Reserve Supreme In Hand
2022
Royal Windsor
3rd in the in hand British Appaloosa Horse Society Main/Annexed / Part Bred Youngstock Class
USAUK Annual Championship Show
1st – Appaloosa in Hand – Any age
2nd – Foreign Breeds Youngstock In Hand – Pure & Part Bred
3rd –  Foreign Breeds – Purebred Stallions & Colts – Any age
Hanbury Countryside Show
4th – Open Alternative Coloured In Hand
Spotfest @ Three Counties Show Ground
1st – Registered Spotted Youngstock In Hand
British Appaloosa Society National Show
1st – 2- & 3-Year-Old Colts
Appaloosa Horse Club UK National Show
English
1st – 3yrs & under Colts
UK CHAMPION STALLION
UK CHAMPION YOUNGSTOCK
UK SUPREME CHAMPION
Western
1st – 3yrs & under Colts
USA CHAMPION STALLION
Fire is now turned away, enjoying what little grass August 2022 hold for us!
2023
Appaloosa Horse Club UK National Show
English
2nd – 3yrs & under Colts
UK RESERVE CHAMPION STALLION
UK RESERVE CHAMPION YOUNGSTOCK
Western
1st – 3yrs & under Colts
1st – FPD Halter Colts / Stallions
USA MALE CHAMPION
USA CHAMPION STALLION
British Appaloosa Society National Show
Main Register Colts – 3rd
23rd August – Fire passed his 5 stage vetting and is a Registered Licensed Stallion.
10th September – Fire is at Stallion Ai to have his semen frozen and is home safe with successful collections and storage.