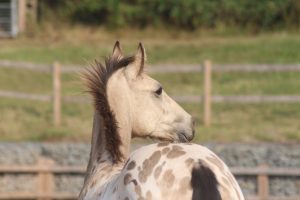 Redheart River Run
AKA – River
Caricks Redheart x DFR Patahas Redheart
Born 25th January 2021
Gelding
ApHC – #690996  –  100% FPD
BApS GA/G/3997 – GRADE A
ApHC UK – A/2042  –  A Register
FAHR – 67.8711%
Congratulations to the new owner of River –  Karen in Halesowen.
River is out of our mare Caricks Redheart, inseminated with fresh semen from our Stallion DFR Patahas Redheart. This is second home bred foal with this combination and what an adorable foal they have created.
Certified negative by parentage for PSSM1 – Polysaccharide Storage Myopathy, HERDA – Hereditary Equine Regional Dermal Asthenia, GBED – Glycogen Branching Enzyme Deficiency, HYPP – Equine Hyperkalemic Periodic Paralysis Disease, MH – Malignant Hyperthermia, Grey gene and Squamous Cell Carcinoma (SCC).
He is registered with the Appaloosa Horse Club, the Appaloosa Horse UK, and the British Appaloosa Society.
Bay (EE Aa) with one copy of cream (CR/cr) making him a buckskin near leopard. He's heterozygous for Leopard Print (LP/lp) and pattern gene (PATN1/patn1). Because we know his dam carries the primitive dun gene, we have tested River and he is confirmed nd1/nd2.
Expected height 15.2hh
Full Pedigree HERE
He has already bonded with his owner from 12 weeks of age, their partnership is very strong and we can't wait to see their future unfold.
2022
July – Karen & River's debut outing was at Hanbury Countryside Show and what a super start to their In Hand showing. We are so proud of them, as they enter a new world of equine enthusiasm.
Yearling Class In Hand – 2nd, taking a 1st in the Spotty.
Alternative Coloured In Hand – 2nd
River's page shall remain here and be updated as and when we receive notifications of his progress through life!
River's first year with Karen