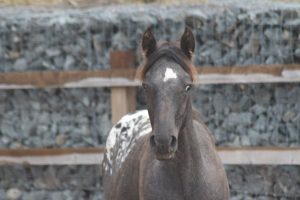 Redheart Rain Dancer
AKA – Rain
Princesse Pascale x DFR Patahas Redheart
Born 28th January 2021
Mare
ApHC # 690994  – 100% FPD / GAP 5
BApS IRGA/M/3998 – GRADE A
ApHC UK  A/2043  – A Register
FAHR 1099 – 83.0077%
Congratulations and good luck to Michelle Godwin in Suffolk
This filly is out of our imported mare Princesse Pascale inseminated with fresh semen from our Stallion DFR Patahas Redheart. This is our 2nd home bred foal with this combination and yet again the result is outstanding.
Certified negative by parentage for PSSM1 – Polysaccharide Storage Myopathy, HERDA – Hereditary Equine Regional Dermal Asthenia, GBED – Glycogen Branching Enzyme Deficiency, HYPP – Equine Hyperkalemic Periodic Paralysis Disease, MH – Malignant Hyperthermia, Grey gene and Squamous Cell Carcinoma (SCC).
Rain is registered with the Appaloosa Horse Club, the Appaloosa Horse UK, British Appaloosa Society, and the Foundation Appaloosa Horse Registry.
Homozygous black (EE/aa) blanket filly, heterozygous for PATN1/patn1and the leopard gene LP/lp. Expected height 15.3+hh
Rain was collected by her owner Michelle Godwin with her new best friend staying the night aiding support for her journey to Bury St Edmunds.
We hope to see Rain make it into the eventing world one day and wish her and Michelle all the best for a promising future.
Full sibling to Redheart Rookie
Full Pedigree HERE
2022
British Appaloosa Society National Show
Sports Horse Type – 4th
Main Register – Fillies/Colts/ Geldings – 5th
Appaloosa Horse Club National Show
Riding Horse Type – 2nd
Most Colourful Blanket – 1st
UK Youngstock – 1st
CHAMPION MOST COLOURFUL
UK CHAMPION MARE
UK RESERVE CHAMPION YOUNGSTOCK
UK RESERVE SUPREME CHAMPION
British Breeding Futurity Evaluations @ The National Training Centre, Hothorpe.
7.85 – Silver for Eventing
2023
Royal Windsor
1st in the Youngstock Class at Royal Windsor
Norfolk County
6th Potential Sports Horse
5th Foreign & Rare Breeds
Rain's page shall remain here and will be updated as and when we receive notifications of her progress through life!