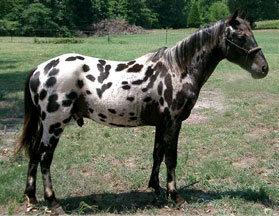 Looking for the "right" stallion was not easy to ensure a new line of Appaloosa blood here in the UK, bloodlines to enhance the Foundation Blood Line of the mares. There are some "Top Quality" Stallions available in the UK but nothing that suited my future breeding programme.
Only confirmation and character confirmed via personal recommendation was sought and Tracy Parker's Stallion, "Kiss My Finest Heart" came highly recommended with chilled transported semen available from Spain.
Rather than repeat Tracy's website, I urge you to view Kiss My Finest Heart and his Spanish "children" at www.espiritu-del-viento.com.
I am honoured to have young stock by this endurance stallion and am privileged Redheart Appaloosa's have new Foundation blood here in the UK.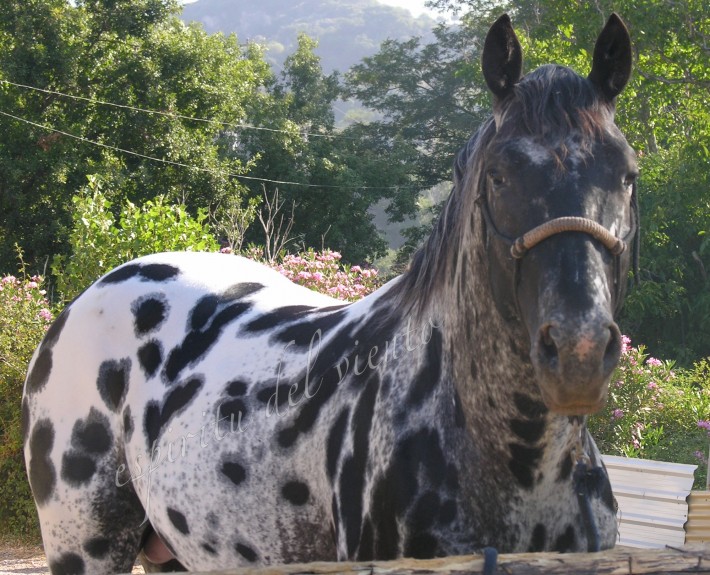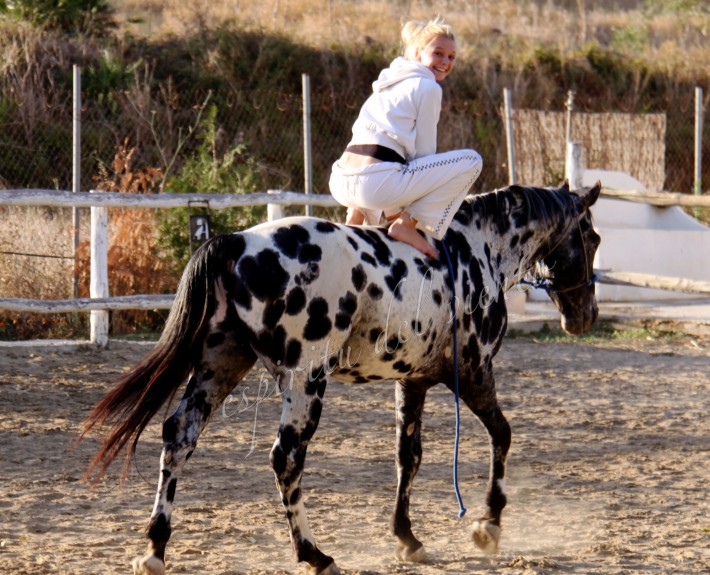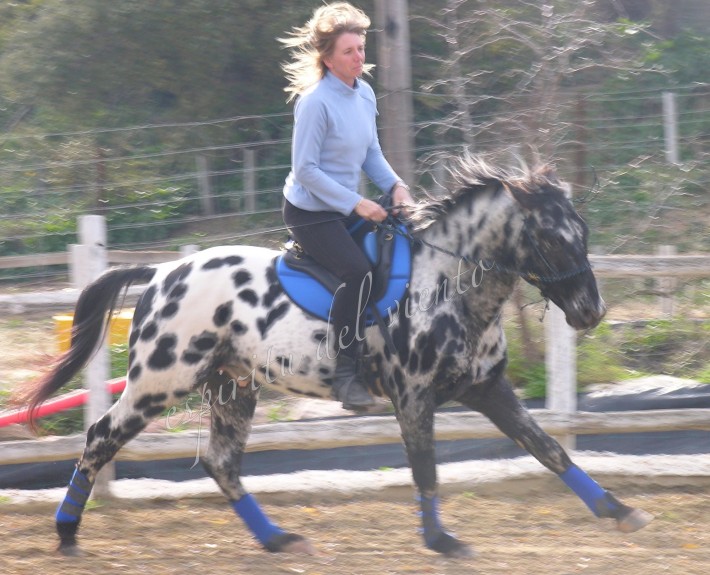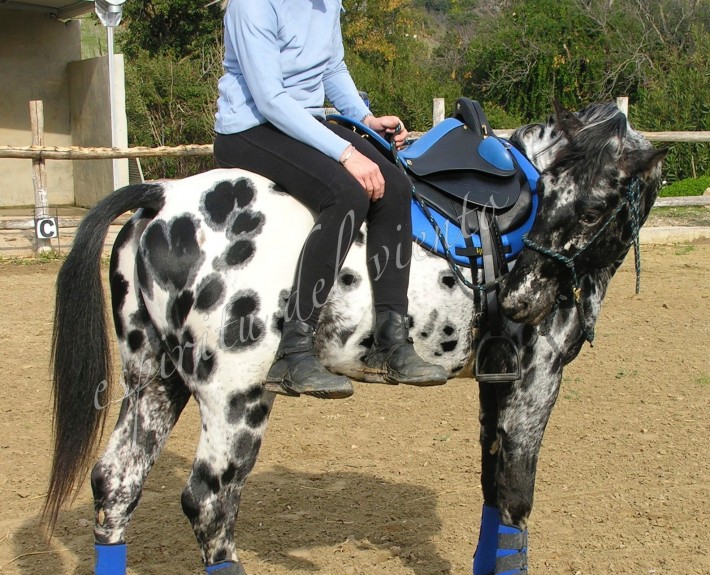 "Kiss My Finest Heart made the long journey from childhood dreams to reality, via Texas to southern Spain in June of 2007.  There, as a mere 3 year-old, he was slowly bought on with ground work only before his ridden career began aged 4, as his future was to be not just a family member but also an endurance horse. An absolute gentleman, he very happily lived out with his new wives, also Foundation Appaloosas imported from America, seamlessly going to live in the geldings paddock when foals were not on the schedule! 

His first endurance competition was 40km in the screaming August heat of southern Spain, alongside some 30 arabian horses.  With his very distinctive coat and his metal-free mouth and feet, Heart very much stood out from the crowd.  He also came across the finish line in the first 10! Wanting a horse to run the whole course as they say, his owner was in no rush to push him up the levels and his first year of competing was all at 40km´s and at every one he qualified.  His resting pulse was now coming in on average at 22bpm. Then a bad track/bad journey one day caused a pull in a shoulder muscle so he was kept home to be sure of a full and complete recovery. Once right, Heart had a year of trekking (but we´re talking 50 to 60 km´s a day) and growing, mentally and physically. He went to a few Ferias, where of course he always drew a lot of attention, and he always behaved impeccably – with no metal in his mouth or on his feet!

A couple of years of making beautiful babies ensued and just recently Heart came back into training for competition. His first walk out for an hour and his pulse was only 30bpm upon return!  He passes this calm demeanour and great interior strength to his foals.  His conformation is the balanced perfection you expect from a Foundation Appaloosa, apt for nearly every discipline.   Kiss My Finest Heart is very much a part of his family in southern Spain and probably gets far more spoiled than he should.  After all, these Appaloosas are smart cookies and know how to play their people!"

Tracy Parker, Espiritu del Viento Stud
Generation Pedigree (Colour & Coat)
Foundation Horses in Heart's Pedigree
F2 Snowflake
F8 Painter III
F18 El Morocco
F47 Painter's Marvel (x2)
F77 General Blucher [Patches]
F150 Barrendo Red
F167 Leopard Lady
F194 The Boss Hoss
F203 Toby I
F208 Spotted Eagle
F209 Red Eagle (x2)
F226 The Wagtail Kid
F324 Kiowa Brave
F385 Stewarts Shiek
F416 Patchy
F426 Two Tone
F470 Golden Glow
F500 Sundance
F524 Freckle Face
F578 Rocking Chair Susie Q
F599 Tomahawk II
F621 Apple
F661 Speckled Lady
F678 Joker B. (x3)
F694 Spook
F801 Juaquin
F872 Miss Dinah-Mite
F891 Gypsy Lee
F1110 Dutchess
F1166 Biltoft's Chico (x2)
F1193 Fruhling's Sheik (x2)
F1195 Fruhling's Cricket (x2)
F1277 Sunray
F1309 Babe Warrior
F1332 Ruff's Willie
F1344 Zebra Dun
F1429 Mount Baldy's Shawnee
F1439 Toby II's Patchy
F1452 American Eagle
F1455 Illumspokanee
F1557 Black Jack
F1596 Keeko
F1607 Apache II
F1617 Wiley's Mt. Baker Nell
F1643 Maize
F1644 Storm Cloud F.
F1655 Rogers' Apache (x2)
F1773 Frosty H.
F1820 Wiggin's Boots
F1822 High Thunderbird
F1955 Sandra
F1992 Spook Jr.
F2002 Camas Lady
F2003 Waluks
F2154 Chief Chelsea [Dancer's Rainbow]
F2225 Poteet B.
F2362 PVF's Toots Warrior
 F2417 Arab Toswirah Alkhar [Jazzo I] (x2)
F2671 Cheyene Gold
 F2950 Simcoe's Trixie
F2993 Simcoe's Kusshi
F3272 Squaw Cap
F3273 Sis-Q's Miss Hollywood
F3295 Sonseeray
F3372 Rustler Bill
F3479 Cooterville Echohawk
F3567 Mah-Tah Kiowa
F3632 Star of Lu-Mar
F3929 Sid Vollin
F3932 Nez Perce Warrior
F4459 Vint's Little Tommy
F4632 Dakota Princess
F4663 Nechi
F4685 Nechanee
F4796 Soaps Sonny
F4917 Dakota Jim