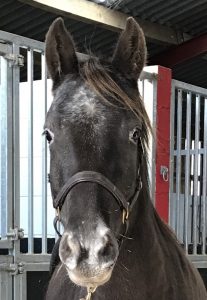 Talisman's Redheart
AKA – Ghost
Born 20th July 2016
Mare
ApHC – 100% FPD
ApHC – GAP 5
ApHC UK – A Register
FAHR – 95.0195%
CTA Cikla Tahca    X RHA Sully Fire Image
Ghost is the last imported mare to join the stud, imported from Taliman Horses in France as a late two-year-old, bought to increase the Redheart foals Foundation Blood Lines, add the Appaloosa characteristics and compliment the foals with her correct, compact build.
Ghost is a 5th generation horse of  Appaloosa x Appaloosa breeding and therefore enrolled in the Foundation Pedigree Designation (FPD) program at 100 %. Born from two 100% FPD parents means she is also enrolled in the Generation Advancement Program (GAP) at level 5.
Her foundation lines are traced back to the first 8 Stud Books of the ApHC at 95.0195%, registered with the Foundation Appaloosa Horse Registry and over stamped with the Appaloosa Horse Club UK &  pending The British Appaloosa Society.
Her phenotype is a bay, although her actual genotype is homozygous black (Ee aa), Ghost is also homozygous for the Leopard Complex gene (LP/LP) and has not inherited the Pattern gene (patn1/patn1), she will roan out and should make 15.1/15.2hh.
Certified negative for PSSM1 – Polysaccharide Storage Myopathy, HERDA – Hereditary Equine Regional Dermal Asthenia, GBED – Glycogen Branching Enzyme Deficiency, HYPP – Equine Hyperkalemic Periodic Paralysis Disease, MH – Malignant Hyperthermia and Grey gene.
2016 – Born at the Talisman Stud she spent her days within a herd of Appaloosas.
2017 – The owners completed all basic training.
2018 – Ghost is imported from France and will see the show ring before becoming a broodmare.
Follow her career and future in the "News".