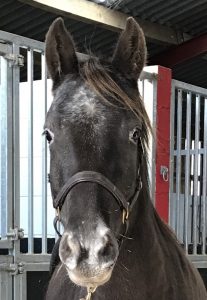 Talismans Redheart
AKA – Ghost
Born 20th July 2016
Mare
ApHC – #682604 -100% FPD / GAP 5
ApHC UK A/1942 – A Register
BApS – IRGA/M/3958
FAHR –1073 –  95.0195%
CTA Cikla Tahca  X   RHA Sully Fire Image
Ghost is the last imported mare to join the stud, imported from Taliman Horses in France as a late two-year-old, bought to increase the Redheart foals Foundation Blood Lines, add the Appaloosa characteristics and compliment the foals with her correct, compact build.
Ghost is a 5th generation horse of Appaloosa x Appaloosa breeding and therefore enrolled in the Foundation Pedigree Designation (FPD) program at 100 %. Born from two 100% FPD parents means she is also enrolled in the Generation Advancement Program (GAP) at level 5.
Her foundation lines are traced back to the first 8 Stud Books of the ApHC at 95.0195%, registered with the Foundation Appaloosa Horse Registry and over stamped with the Appaloosa Horse Club UK & pending The British Appaloosa Society.
Her phenotype is a bay, although her actual genotype is homozygous black (Ee aa), Ghost is also homozygous for the Leopard Complex gene (LP/LP) and has not inherited the Pattern gene (patn1/patn1), she will roan out to a black varnish roan with LP and should make 15.1/15.2hh.
Certified negative for PSSM1 – Polysaccharide Storage Myopathy, HERDA – Hereditary Equine Regional Dermal Asthenia, GBED – Glycogen Branching Enzyme Deficiency, HYPP – Equine Hyperkalemic Periodic Paralysis Disease, MH – Malignant Hyperthermia, Grey gene and a carrier of Squamous Cell Carcinoma (SCC).
Full Pedigree HERE
2016 – Born at the Talisman Stud she spent her days within a herd of Appaloosas.
2017 – The owners completed all basic training.
2018 – Ghost is imported from France and will see the show ring before becoming a broodmare.
2019 – Ghost sustained an awful injury to her off hind leg which will prevent her seeing the ring, thankfully she's a filly and a very well-bred filly. Our first unproven brood mare but we are lucky she is still with us!
2020 – Ghost is artificially inseminated with semen from our stallion DFR Patahas Redheart and confirmed pregnant for a 2021 black GAP 6 few spot foal.
2021 – Redheart Result, a filly is born, inheriting the cream gene and retained. Ghost is inseminated with Reus frozen semen.
2022 – Redheart Realisation is born, and we will try again to obtain our Reus filly, Ghost has been confirmed pregnant.
2023 – Redheart Regardless is born, will we ever get our Reus filly! A stunning leopard colt…
Ghost will have a year off from breeding but we will try again next year for our 2025 Reus filly (everything crossed)!
Follow her career and future in the "News".
Looking back at two years with Talismans Redheart
Ghost was imported from France and is our smallest mare, currently standing at 15hh with an adorable kind and quiet personality.
Unfortunately, whilst playing with the yearlings, she sustained an injury to her leg last year, thankfully she's sound, bred very well and put together quite finely so should complement her future foals with both our boys. Unfortunately, she'll never see the show ring due to a cosmetic scar.
Listed on the ApHC Hall Of Fame, Ghost has SUNDANCE and BAMBI E on both sides of her pedigree, her sire adds APPACHE, JOKER B and PRINCE PLAUDIT whilst her dam boasts RED EAGLE, PATCHY, RED EAGLES PEACOCK and PATCHY JR.
Ghosts blood line is predominantly Appaloosa blood but go back 15 generations on the dam side and you'll see WAZIR 1863, a grey Arabian stallion who was an undefeated racehorse and one of the most successful and famous stallions in Egypt.