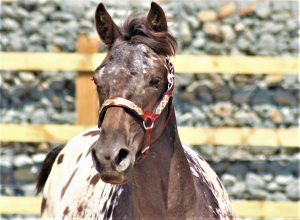 Redheart Revelation
AKA – Dakota (Dee)
Redheart Pascalius x DFR Patahas Redheart
Born 26th April 2019
Filly
ApHC – #687471  – 100% FPD – GAP 6
BApS IRGA/M/3953 – GRADE A
ApHC UK  – A/1966 – A  Register
FAHR – 1080 – 82.0312%
Congratulations to the new owner of Dee – Lilly Duncombe.
This filly is out of our homebred mare Redheart Pascalius inseminated with fresh semen from our Stallion DFR Patahas Redheart. This is our first home bred foal with this combination and we are certainly very pleased with the result! Proud to offer such a quality horse for sale and especially the UK's first GAP 6.
Certified negative by parentage for PSSM1 – Polysaccharide Storage Myopathy, HERDA – Hereditary Equine Regional Dermal Asthenia, GBED – Glycogen Branching Enzyme Deficiency, HYPP – Equine Hyperkalemic Periodic Paralysis Disease, MH – Malignant Hyperthermia, Grey gene and Squamous Cell Carcinoma (SCC).
She is registered with the Appaloosa Horse Club,  the Appaloosa Horse UK, the  British Appaloosa Society and the Foundation Appaloosa Horse Registry.
Homozygous black (EE aa) with one copy of the cream gene (CR/cr) making her a smokey black near leopard filly. Heterozygous Leopard Print (LP/lp) and heterozygous Pattern  (PATN1/patn1).
Expected height 15.2hh.
Full Pedigree HERE
Dee's page shall remain here and be updated as and when we receive notifications of her progress through life!