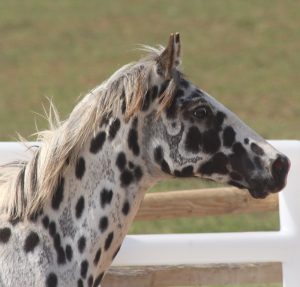 Redheart Raven
AKA – Raven
Peyres Catori Cat x DRF Patahas Redheart
Born 24th January 2021
GELDING
ApHC  #690993   –  97% FPD
BApS #3996 – GRADE A
ApHC UK #2041  –  A Register
FAHR – 72.0704%
Congratulations and good luck to the new owner of Raven – Naomi in Gloucestershire
Raven is out of our imported mare Peyres Catori Cat inseminated with fresh semen from our Stallion DFR Patahas Redheart. This is second home bred foal with this combination and WOW what a foal they have created.
Certified negative by parentage for PSSM1 – Polysaccharide Storage Myopathy, HERDA – Hereditary Equine Regional Dermal Asthenia, GBED – Glycogen Branching Enzyme Deficiency, HYPP – Equine Hyperkalemic Periodic Paralysis Disease, MH – Malignant Hyperthermia, Grey gene and Squamous Cell Carcinoma (SCC).
He is registered with the Appaloosa Horse Club, the Appaloosa Horse UK, and the British Appaloosa Society.
Homozygous black (EE aa) leopard (LP/lp) and homozygous Pattern1 (PATN1/PATN1). Expected height 15.2hh plus.
Full Pedigree HERE
Sold in utero, he will be shown and ridden as he becomes a lifelong partner with Naomi.
We delivered Raven to his new family in September 2021, they have carried on his education and their homework has paid off. Raven first venture out was to watch Naomi compete on her pony Charlie at a local show jumping event, such great education for a yearling.
His second outing was a little unaffiliated event, competing in a youngstock class. His performance and exception manners manners gave him a well deserved 2nd place.
Now ready for one of the most affiliated prestigious events – Royal Windsor 22, such a big ask for a yearling but yet again Raven didn't put a hoof wrong against seasoned show horses, rewarded with a 4th place.
Hulks Farm Show
Youngstock – 2nd
Royal Three Counties 
Sport Horse In Hand Yearling – 3rd
Spotfest – West Midlands
The Registered Spotted Horse – 3rd
British Appaloosa Society National Show
Ultra Novice Handler – 2nd
Raven's page shall remain here and be updated as and when we receive notifications of his progress through life!
Naomi
&

Raven (with mum Emma)