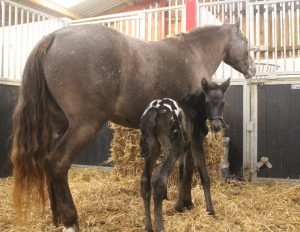 Redheart Realisation
AKA – Really
Talismans Redheart  x  Hevans EV Cataorrius
Born 26th February 2022
Colt
ApHC – 100% FPD
BApS – STUD BOOK
ApHC UK – A Register
FAHR – 77% +
Congratulations and good luck to Veronika & Paul Redford in the Isle of Man
Really is out of our imported French mare Talismans Redheart (Ghost) inseminated with frozen semen from Hevans EV Catorrius / Redheart Catorrius Redheart (Reus).
This is our first home bred foal with this combination and although we really wanted a filly to retain we are over the moon he has found the most loving home that awaits his arrival.
He will be joining Veronica and Paul along with their family whom we are sure all will adore him…
Because we know Ghost doesn't carry the PATN1 gene and Really has spots, we thank Reus for passing along his PATN1 gene, Reus doesn't carry the Leopard gene because he is a non-characteristic (lplp) and Ghost has two copies (LPLP), so we knew 100% Ghost would give one copy of her LP to Really. Therefore, we know Really is heterozygous for LP and PATN1, a spotted blanket.
However, his colour is a mystery at present…there are three variations that he could be, black (Ee/aa or EE/aa), a bay (Ee/Aa or EE/Aa) or a sorrel (ee/aa or eeAa) but only his test results will confirm his genotype.
He is called Realisation because despite his grand dam – Peyres Catori Cat being the least Foundation bred mare we have at present, by using our breeding plan to it's full advantage (although it has been many years in the making) we REALLY have produced a Foundation Appaloosa Horse Registry foal… a blood line of history we are so very proud of.  Redheart Appaloosas are certainly putting the UK on the map for the breeding line of Foundation Appaloosas traced back to the Nez Pearce Indian Tribe.
Certified negative by parentage for PSSM1 – Polysaccharide Storage Myopathy, HERDA – Hereditary Equine Regional Dermal Asthenia, GBED – Glycogen Branching Enzyme Deficiency, HYPP – Equine Hyperkalemic Periodic Paralysis Disease, MH – Malignant Hyperthermia and Grey gene. Ghost carries one copy of Squamous Cell Carcinoma (SCC) although a recessive gene we will test Really, it won't make a difference to his breeding because he will be gelded but we like to know the facts.
He will be registered with the Appaloosa Horse Club, the Appaloosa Horse UK, the British Appaloosa Society, and the Foundation Appaloosa Horse Registry.
Full Pedigree HERE
Expected height 15.2hh +
Really's First 12hrs of life…