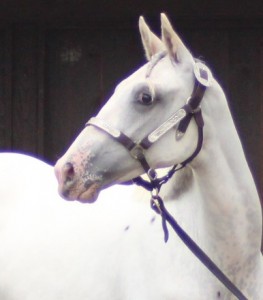 Redheart Regal
AKA – Blanc
Peyres Catori Cat  X  RDF Ti KHA Atta Rain   
FILLY
Born 13th May 2015
ApHC  #678525  – 97% FPD
ApHC UK  #1750  – A Register
BApS – # 1796 –  Part Bred (Due to sire not registered)
FAHR – 66.60155%
Congratulations and good luck to Come & Patricia Hugot at Talisman Horses – France
Blanc is a homebred filly, passported with the Appaloosa Horse Club UK, she is registered with the Appaloosa Horse Club (ApHC), enrolled on their Foundation Pedigree Designation (FPD) programme at 97%, with 29/30 registered Appaloosa's in her five generation pedigree. Registered with the Foundation Appaloosa Association and over stamped with the Sports Horse Breeding of Great Britain on their Basic Identity Register and the British Appaloosa Society as a Part Bred on colour evidence due to her Sire not being BApS licensed.
A bay (Ee Aa) few spot filly, homozygous for the Leopard Complex gene (LP/LP) and confirmed PATN1/patn1. Certified negative for PSSM1 – Polysaccharide Storage Myopathy, HERDA – Hereditary Equine Regional Dermal Asthenia, GBED – Glycogen Branching Enzyme Deficiency, HYPP – Equine Hyperkalemic Periodic Paralysis Disease, MH – Malignant Hyperthermia and Grey gene.
Her breeding and genotype are advantageous for a  future Broodmare if crossed with a 100% FPD stallion, thus producing a 100% FPD foal with Appaloosa characteristic's 100% of the time.
Full Pedigree HERE
Her dam has a substantial proven in hand performance record, with Blanc's half-sister Redheart Cateaster and half-brother Hevans EV Catorrius following in her footsteps.
2016 – Blanc's debut outing in the ring as a yearling was a fantastic experience for her. Taking the events in her stride,  with a win and three-second places.
2017 – Blanc remains tall and gangly at 16hh at the rear….this filly will not see the show season. We would like to see her level out and fill out.
2018 – Having 2017 out with the herd, we planned to get this filly in the ring but a surprise foaling has somewhat changed this! April 13th Blanc gave birth to a healthy bay buckskin filly by our stallion Blu, see Ru.
Redheart Regal is SOLD, we safely delivered her to Talisman Horses in December 2018, what a great asset for their Foundation Breeding program, we are delighted she has a 5* home.
2019 – Having settled in her new home in France, she has been broken in and ridden away and turned away.
2020 – Blanc remain within the herd living a happy healthy life, becoming very much the babysitter.
2021 – Blanc run's naturally with Gunmetal Talisman in May, we keep everything crossed for the safe arrival of this beautiful combination in 2022. Unfortunately, Blanc did not catch with with "Gun", so Taliman's Horses will try in 2022 with their stallion  RHA Sully Fire Image.
Blanc's page shall remain here and be updated as and when we receive notifications of her progress through life!
British Appaloosa Society
Foundation Appaloosa Association
Redheart Regal at Talisman Horses – France