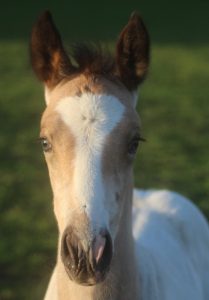 Redheart RU Chubarry
AKA – Ru
Redheart Regal x DFR Patahas Redheart
Born 13th April 2018
Filly
ApHC UK A/1920 – A Register
ApHC #685528 – 100% FPD
BApS APB/M/1809- PB
FAHR 1068- 79.7851%
Congratulations and good luck to Denise Playfair in Cumbria.
Ru is out of our homebred mare Redheart Regal from natural covering with our resident stallion DFR Patahas Redheart. This filly is absolutely outstanding and the best surprise, inheriting the cream gene from the sire, making her a buckskin.
A bay (Ee Aa) who has two copies of the Leopard Complex gene and one copy of the Pattern 1 gene. Negative for PSSM1 – Polysaccharide Storage Myopathy, HERDA – Hereditary Equine Regional Dermal Asthenia, GBED – Glycogen Branching Enzyme Deficiency, HYPP – Equine Hyperkalemic Periodic Paralysis Disease, MH – Malignant Hyperthermia and Grey gene by certified parentage.
Registered with the Appaloosa Horse Club, enrolled in their Foundation Pedigree Designated programme at 100% FPD,  "A" register with the Appaloosa Horse UK with a passport over-stamped by British Appaloosa Society as a Part Bred. Ru is registered with the Foundation Appaloosa Horse Registry, her foundation lines are traced back to the first 8 Stud Books of the ApHC at 79.7851%.
Expected height 15.2hh+, with an athletic build, she could easily compete in any discipline and would be an asset to any Appaloosa Stud as a broodmare.
November 2018 Ru joined the Chubarry Appaloosa Stud, she completed her yearling days in the ring and was sold (due to Stud closure) in July 2020 to her new owner Denise in Cumbria. Here she will undertake her future in the endurance world before joining their breeding programme.
Full Pedigree HERE
Ru's page shall remain here and be updated as and when we receive notifications of her progress through life!
June 2019 – Ru's first outing in the ring – Appaloosa Horse Club UK Spring Show
UK Female Champion
Reserve Champion Young-Stock
UK Reserve Supreme Champion and USA Reserve Champion
August 2019 – Ru's second outing – Appaloosa Horse Club UK National Show
Reserve Female Champion (USA)
Reserve Female Champion (UK)
Reserve Young stock Champion.