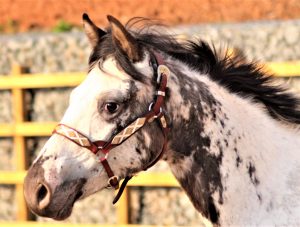 Redheart Relentless
AKA – Timothy
Peyres Catori Cat x DRF Patahas Redheart
Born 15th April 2019
GELDING
ApHC  #68470   –  97% FPD
BApS  3951 – GRADE A
ApHC UK #1964  –  A Register
FAHR – 72.0704%
Congratulations and good luck to the new owner of Timothy – Lian Wood
Tim is out of our imported mare Peyres Catori Cat inseminated with fresh semen from our Stallion DFR Patahas Redheart. This is our first home bred foal with this combination and WOW what a foal they have created.
Certified negative by parentage for PSSM1 – Polysaccharide Storage Myopathy, HERDA – Hereditary Equine Regional Dermal Asthenia, GBED – Glycogen Branching Enzyme Deficiency, HYPP – Equine Hyperkalemic Periodic Paralysis Disease, MH – Malignant Hyperthermia, Grey gene and Squamous Cell Carcinoma (SCC).
He is registered with the Appaloosa Horse Club, the Appaloosa Horse UK and the British Appaloosa Society.
Homozygous black (EE aa) few spot (LP/LP) with one copy of the Pattern gene (PATN1/patn1). Expected height 15.2hh
Full Pedigree HERE
2020
Relentless was sold and delivered to his new home with Lian Wood in Cambridgeshire, what a fabulous start as Lian had made great effort to bond with him here at the Stud, so their relationship was already built!
He will be shown and ridden as he becomes a lifelong partner with his new owner.
2021
ROYAL WINDSOR
In Hand Youngstock – 1st
RESERVE CHAMPION
ApHC UK NATIONAL SHOW
Riding Horse Type – Any age, sex or register 5th
UK Most Colourful Other, any reg – 3rd
UK Youngstock geldings 3yrs & under, A & B – 1st
UK Grand & Reserve Champion Gelding – CHAMPION
ApHC UK Youngstock Champion – RESERVE CHAMPION
USA Youngstock Gelding, 3yrs & under – 1st
USA Aged Gelding 4 yrs plus – 2nd
USA Grand & Reserve Champion Gelding – RESERVE CHAMPION
USA FPD Championship – CHAMPION
BRITISH APPALOOSA SOCIETY NATIONAL BREED SHOW
Best Conditioned – 3rd
Sports Horse Type – 2nd
Most Colourful Other – 2nd
Main Register 2 & 3 Year old Geldings – 1st
2022
The East Anglia Horse Show
In Hand Rare & Foreign Breeds – 2nd
In Hand Youngstock – 2nd
Pairs Class with her daughter April and her Shetland – 1st
MAGPAS CHARITY HORSE SHOW
Best Conditioned – 4th
Youngstock – 1st
British Appaloosa Society Northern Breed Show
Best Conditioned – 2nd
Sports Horse – 2nd
Most Colourful Other – 2nd
Main Register 2 & 3 year-old Gelding – 1st
CHAMPION YOUNGSTOCK – RESERVE
MALE CHAMPIONSHIP – RESERVE
Awarded the Best Turned out of the entire in hand competitors.
Appaloosa Horse Club National Show
USA Youngstock – 1st
USA FPD Halter Geldings – 1st
RESERVE USA GELDING CHAMPION
CHAMPION USA FPD
USA RESERVE CHAMPION YOUNGSTOCK
Tim's page shall remain here and be updated as and when we receive notifications of his progress through life!