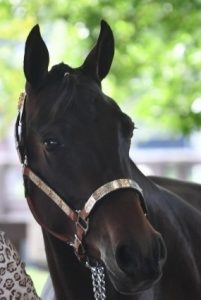 Caricks Redheart
AKA – Myka
Born 10th May 2014
Mare
ApHC # N682973 – 93% FPD
ApHC UK #N1831 – A Register
BApS #N3824 – Grade B
FAHR 42.77345%
Lambrigg Dollar Girl X Drea Yakima Firshado
The saddest day 22nd November 2023 when there was no choice to help Myka due to colic, she was a fantatic mare in every respect and we were so lucky to have bought her.
She was a huge personality here at the Stud and is missed enormously by everyone and her partner in crime, Catori!
Her spirit lives on in her foals and especially in her bloodline by her 2023 filly Realm, who we are so very fortunate to retain.
Myka joined us 6th November 2016, as a mature two-year-old. Bred by Carol and Michael Woods who hold the prefix "CARICKS" with the British Appaloosa Society.
Myka is a well-developed and compact filly with very nice confirmation. She has three good paces with an elegant trot and is expected to make 15.2+.
Certified negative for PSSM1 – Polysaccharide Storage Myopathy, HERDA – Hereditary Equine Regional Dermal Asthenia, GBED – Glycogen Branching Enzyme Deficiency, HYPP – Equine Hyperkalemic Periodic Paralysis Disease, MH – Malignant Hyperthermia, Grey gene and Squamous Cell Carcinoma (SCC).
Born from two characteristic horses, she is a true non-characteristic (lp/lp) and carry's one copy of the Pattern Gene (PATN1/patn1). Confirmed bay with the genotype (EE AA). She also carries a copy of the Dun primitive markings gene, nd1/nd2.
Registered with the ApHC UK, the Appaloosa Horse Club (ApHC) and the Foundation Appaloosa Association. Passported with the British Appaloosa Society, registered as a Grade B.  She has a performance permit to enable her to compete in colourful Appaloosas classes and is enrolled on the Foundation Pedigree Designation (FPD) programme at 93%, with 28/30 registered Appaloosa in her pedigree.
Her sire, Drea Yakima Firshado is a loud black leopard, 100% FPD, BApS Grade A, standing at 15.1hh, at Havelands Appaloosas. He is an American Import from Deckers Red Eagle Appaloosas, the pedigree goes back to Red Eagle, Bambi E, Sundance F500 and the Nez Perce Ghostwind Stallions….Breath-taking!
Her Dam, Lambrigg Dollar Girl is of quality stature and has produced some outstanding foals. Indian Whirlwind by August Skyhawk, Caricks Swansong by CJA Pow Wow Rufire.
Full Pedigree HERE
2016 – Myka was in isolation for a few weeks before joining the mares.
2017 – Myka completed one season showing in-hand, never out of the ribbons and she proved to be a consistent level headed filly. Throughout the season she was lead by a junior and never put a foot wrong.
BApS – Royal Windsor – Appaloosa RESERVE CHAMPION
ApHC UK – Regional – Female RESERVE CHAMPION
BApS – Three Counties – Appaloosa RESERVE CHAMPION
BApS – Northern National – Youngstock RESERVE CHAMPION
BApS National – Female – RESERVE CHAMPION
BApS National -Award for 2 & 3-year-old fillies-  HIGHEST GRADE
Sixth place in the Amazing Blue ApHC UK Performance Table
ApHC Register Of Merit – In Hand Halter – ROM award
2018 – Myka is confirmed in foal to DFR Patahas Redheart.
2019 – Reflection is born and Myka is having a year off from breeding.
2020 – Myka is confirmed in foal to DFR Patahas Redheart.
2021 – River Run is born and Myka is confirmed in foal to  DFR Patahas Redheart.
2022 – Rosella is born and Myka is confirmed in foal to DFR Patahas Redheart.
2023 – Redheart Royalty is born and Myka is having a year off from breeding.
Follow her development as I update her future as a broodmare in the "News".
ApHC Registration & Performance Permit 93%FPD
Full Genetics / Colour Report
Foundation Appaloosa Association
A look back at 4 years with Caricks Redheart.
Myka joined us at the age of two in November 2016 from Doncaster, England. She completed one season in the ring and was mainly shown by a junior.
Myka always looks for the mud and has a very affectionate character. Standing at 15.2hh she's a great asset to our broodmare herd and has proved to an excellent broodmare.
With 28/30 Appaloosas in her 5 generation pedigree we see her sire, Drea Yakima Firshado contains ApHC Hall of Fame horses, Red Eagle, Bambi E and Sundance 500 whilst her dam, Lambrigg Dollar Girl bloodline's trace back to BRIGHT EYES BROTHER, JOKER B, THE EXECUTIVE, WAPITT (1966), PRINCE PLAUDIT (1963) and RUSTLER BILL (1996).
Myka's pedigree is also steeped She has many Quarter Horses listed on the American Quarter Horse Hall Of Fame – LEO, DEAPTH CHARGE, JOE REED, JOE REED II, OLD SORREL, SOLIS, JOE HANCOCK, OKLAHOMA STAR, BILLY GLEGG, POCO BUENO, SKIPPER W, THREE BARS as well as OLD FRED (PHBA) and just to add for a giggle, SIRI SHEIK (1945) owned by Paula Cooper.
Myka's pedigree is also steeped with some impressive Thoroughbred racehorses – West Australian (Triple Crown winner), BOLD VENTURE (won Kentucky Derby G1, Preakness Stakes G1), ST GERMANS (leading Sire in 1931). BLENHEIM (won The Derby in 1930), ROCK SAND (1903 British Triple Crown Winner), THE TETRARCH (leading Sire in GB & Ireland in 1919), SANSOVINO (winner of Epsom Derby 1924), BLANDFORD (Three-Time Leading Sire in Great Britain & Ireland 1934, 1935, & 1938), GAINSBOROUGH (winner of the English triple crown), MUMTAZ MAHAL (Champion 2YO Filly in 1923), PHALARIS (leading sire in Great Britain and Ireland in 1925 & 1928), MACARONI (won Epsom Derby 1863) and many more…