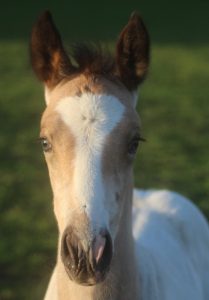 Redheart RU Chubarry
AKA – RU
Redheart Regal x DFR Patahas Redheart
Born 13th April 2018
Mare
ApHC UK #1920 – A Register
ApHC #685528 – 100% FPD
BApS #809- Part Bred (Due to the Grandsire sire not being registered)
FAHR #1068- 79.7851%
Ru is out of our homebred mare Redheart Regal from natural covering with our resident stallion DFR Patahas Redheart. This filly is absolutely outstanding.
A bay (Ee Aa), homozygous for the Leopard Complex gene (LP/LP) with one copy of the Pattern 1 gene (PATN1/patn1) and one copy of the cream gene (CR/cr) making her a buckskin.
Negative for PSSM1 – Polysaccharide Storage Myopathy, HERDA – Hereditary Equine Regional Dermal Asthenia, GBED – Glycogen Branching Enzyme Deficiency, HYPP – Equine Hyperkalemic Periodic Paralysis Disease, MH – Malignant Hyperthermia and Grey gene by certified parentage.
Registered with the Appaloosa Horse Club, enrolled in their Foundation Pedigree Designated programme at 100% FPD,  "A" register with the Appaloosa Horse UK with a passport over-stamped by British Appaloosa Society as a Part Bred. Ru is registered with the Foundation Appaloosa Horse Registry, her foundation lines are traced back to the first 8 Stud Books of the ApHC at 79.7851%.
Expected height 15.2hh+, with an athletic build, she could easily compete in any discipline and would be an asset to any Appaloosa Stud as a broodmare.
Full Pedigree HERE
2018
Ru joined the Chubarry Appaloosa Stud, she completed her yearling days in the ring and was sold (due to Stud closure) in July 2020 to her new owner Denise in Cumbria. Here she will undertake her future in the endurance world before joining their breeding programme.
June 2019 – Ru's first outing in the ring – Appaloosa Horse Club UK Spring Show
UK Female Champion
Reserve Champion Young-Stock
UK Reserve Supreme Champion and USA Reserve Champion
August 2019 – Ru's second outing – Appaloosa Horse Club UK National Show
Reserve Female Champion (USA)
Reserve Female Champion (UK)
Reserve Young stock Champion.
July 2020
Due to Chubarry Stud closure, Ru was offered back to us, unfortunately due to her close bloodline here at the Stud we confirmed we were happy to have her but would have to sell her on. Wendy advertised her for sale and was very fortunate to find a 5* home with Denise.
To help out, we collected Ru from Herts on the 4th July and delivered her to Denise the next day near Kelso. It was lovely to meet Denise and her family, I knew Ru would definitely be loved and have a forever home.
2021
Ru and Denise carried on the showing with Ru, it's no surprise how well they have done, such a lovely stamp of a mare…She joins the family farm Kaimknowe.  The Kaimknowe Prefix covers their pedigree flocks of Shetland and Norfolk Horn Sheep, herds of Pygmy, Bagot and Golden Guernsey Goats. Appaloosa and Arab horses. Experienced breeder of Standard Smooth Dachshunds, what better life could Ru have.
July – Starting their show prep at Puddledub show they took a 3rd place in the Youngstock Class and won the Coloured Class, what a great start to their relationship.
August – ApHC UK National Show
Riding Horse Type – Any age, sex or register 6th
UK Most Colourful Other, any reg 4th
UK Youngstock fillies 3yrs & under, A & B 2nd
USA Youngstock fillies, 3 yrs & under 1st
USA FPD Halter Mares/Fillies, all ages 1st
USA Grand and Reserve Champion Mare – RESERVE CHAMPION
USA Youngstock Championship – RESERVE CHAMPION
In Hand Trail, any age western or English tack – 2nd
Youth Handler UK age 13 to 18 yrs – 3rd with Alex (Denise's son) what an absolute delight to watch.
2022
British Appaloosa Society Northern Show
Part Bred Mares 4yrs & Over – 2nd
Early 2022, Ru is doing well out with the herd and enjoying life as a 4-year-old, she has been "started".
End of 2022, Ru has been ridden away and has shown great promise under saddle competing in the on-line Trec. She scored three 10's in her first test with positive comments from the Judge, an overall mark of 91/110, what a promising future this mare has and hat off to Denise.
2023
We are so very proud of Ru (what a splendid horse she has developed into) and Denise, they are a great team and have been lightly participating in TREC and participating in their Scottish Endurance Riding Club (SERC).
September 
When we say, "we pride ourselves selling only what we would purchase", we mean it 100%.
From the bottom of our heart, THANK YOU, THANK YOU & THANK YOU Denise, we are just overwhelmed to have been given the opportunity to have Ru back.
We NOW have our Peyres Catori Cat line, to breed forwards with Fire, but it's been the hardest decision to let Redheart Royalty go… although it's nearly 5yrs since Ru left the Stud, she surely remembers us ALL.
Ru is currently in isolation, but she's settled and soon will be turned out with Reus, her half brother and will later join Rez & Rene (all by our stallion Blu, Fire's future wife's).
Speechless for words…
Ru's page shall remain here and be updated as and when "WE" have notifications of her progress through life!
Ru back at The Stud – From September 2023