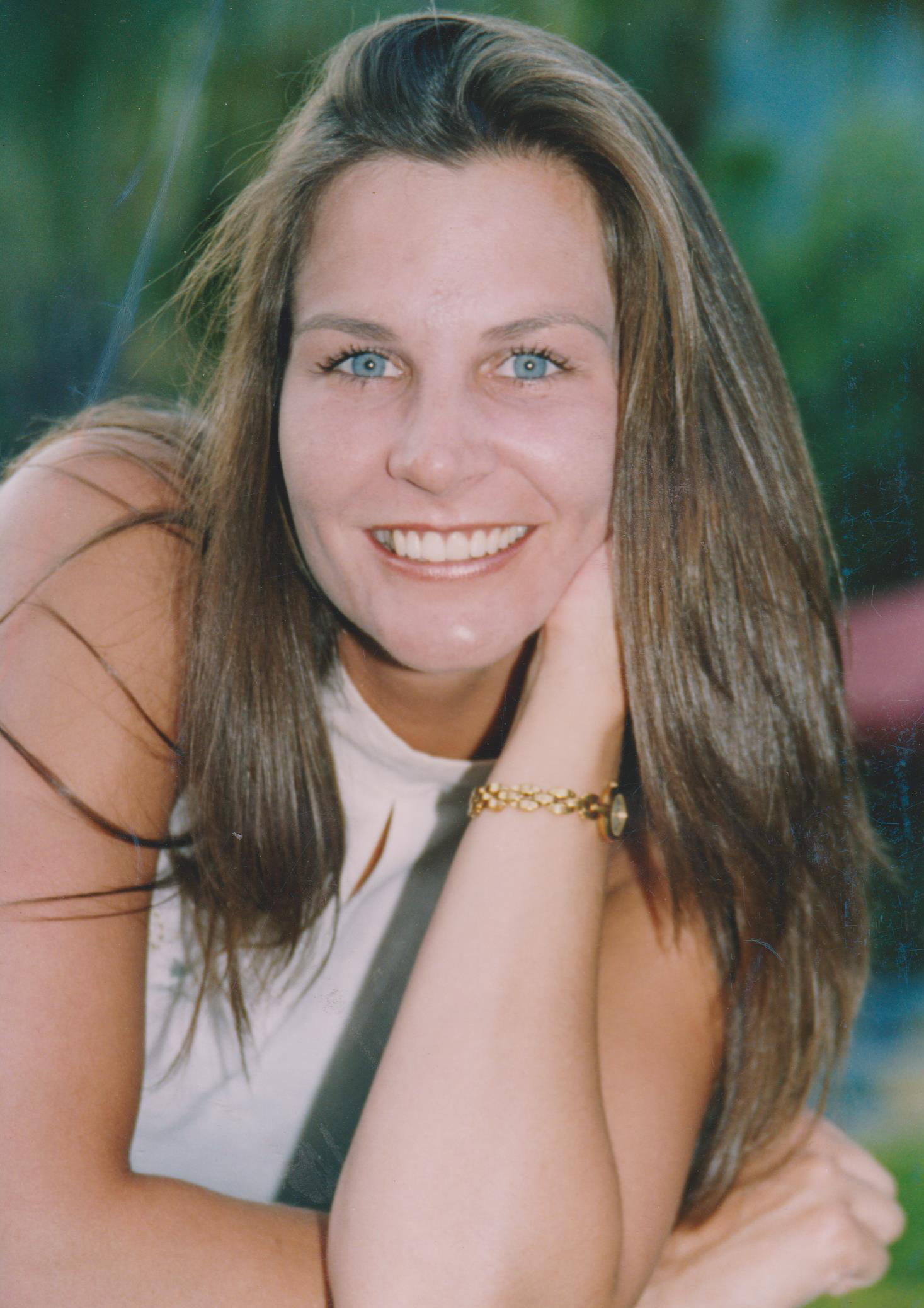 As a child, I was brought up on a working farm in Cwmbran, South Wales. I used to spend my days pulling up docks in the fields, creosoting the fences, whitewashing the stables and washing out the water tanks in order to have a pony.
Smokey Joe was my first pony at the age of eight, he was an old Welsh Mountain pony, he knew all the tricks that ponies learnt with age. My mother taught me to ride bareback on the lunge and I fell off most days but always got back on. I soon learnt how to stay on and eventually, I got the better of him.
Outgrowing Smokey Joe, I was given the opportunity to ride a super little pony called Super Steed. He was "all that", I won so many jumping classes with him, I developed a hunger that I had never experienced before.
I then outgrew Steed and was given the ride on Lucy Locket. She was an awesome ex JA mare, anything you pointed her at was jumped. You could never let Lucy have her head, she used to bounce on the spot and had her own stride to every jump. I was just a passenger! This pony taught me how to turn in mid-air, jump offs were our speciality and against the clock it was electrifying.
I obtained many other rides in my early teenage days and learnt a little from each one. Every horse was different in size, nature, ability and scope. I very quickly learnt how to achieve the very best from that individual in whatever discipline.
I was about twelve when the late Mr & Mrs Jones took me under their wings. They gave me the opportunity to bring on their two young Thoroughbreds, Mary Tudor & Helen Tudor. We went show jumping all year round, eventually working our way up the ranks from British Novice through Newcomers and Fox Hunters and completing a few Open B & C classes. Both mares were phenomenal. I cannot express in words my gratitude and appreciation that John and Doreen deserve.
At the age of eighteen, I headed off to West Oxfordshire carrying on my education in land management and business studies in the Thoroughbred world. During this time many doors opened, I achieved a great deal of experience in the blood stock world, working closely with an Italian bloodstock agent in Italy and working at the prestigious Houton Sales in Newmarket three years in a row.
Working in Lambourn "The home of the Race Horse" opened my eyes into a whole new meaning of horses. The breeding, the training, the feeding to achieve an equine athlete, consumed my life. My first job was in a flat racing yard and later in a National Hunt yard, the adrenaline schooling over proper fences at speed was amazing.
In 1997 a vacancy at a National Hunt Trainer in Gloucestershire opened a new chapter in my life with the availability of stables and land located nearby. Confidently starting training and competing, point to pointers as a hobby. It was a few years before the hobby required further commitment as more horses were taken on! Before I could blink ten years had gone by. Many placings, a few winners including first time out maidens, a few National Hunt rides and two third placings in the Ladies Point to Point Championships were achieved.  Plus a few very nice horses trained which successfully furthered their careers under rules.
After what felt like an eternity of National Hunt, it was time for me to settle down and start a family. Many will understand being a mother is a commitment without boundaries and as an unselfish act, it was necessary to free my life of horses and concentrate on my two girls, Jasmin and Millicent.
2002 was my last point to point ride and the end of my life as a jockey.  A  very nice educated début run finishing 5th, the horse won first time out the following season.
My last owned amazing horse, purchasing him at six months old was Aarons Run aka Billy. He was educated and ran in a few bumpers, he then took the point to point field by storm, winning every race, achieving the Novice area Point to Point Championship in his first season. He showed such ability he went under rules, his first run at Chepstow ended in disaster as he led to the finish by a distance, "over jumping" the last but one fence, slipping on landing. He snapped and fractured his Dorsal Spinous Process's (DSP'S) and later was put to sleep due to colic. A very emotional and heart-wrenching time in my life……
As my two children Jasmin and Millicent started school in 2007 I started working at  Three Counties Equine Hospital LLP who have been my vets for over twenty years to date. This has been the most enjoyable and rewarding place of work. Not one day is ever the same and I am proud to be part of a dedicated team moving forward in the Veterinary world, full of new and exciting technology to aid the equine industry.
With no horses in my life during my "brood mare" days,  I can honestly say it must be a disease in the blood! It wasn't long before I longed for some kind of "equine interest" and a challenge but not in the racing world.   I will say, having my children did change my attitude and ability to be as ambitious as previously experienced! Many will understand but I am not afraid to admit I don't want to leave my children without a mother due to my own stupidity.
This is where my own mother comes into play.  She always had a passion for Appaloosas, as a child I remember her showing me a gorgeous picture of a spotted stallion called Klause. I remember saying I would like to have a pretty horse like that one day!!!!!
That "one day" came, off to France to import Peyres Catori Cat in 2008 and off to Austria to collect and import Princesse Pascale in 2009. Both trips completed on 14th February, a very nice present from my better half to keep me sane…….AND HERE WE ARE!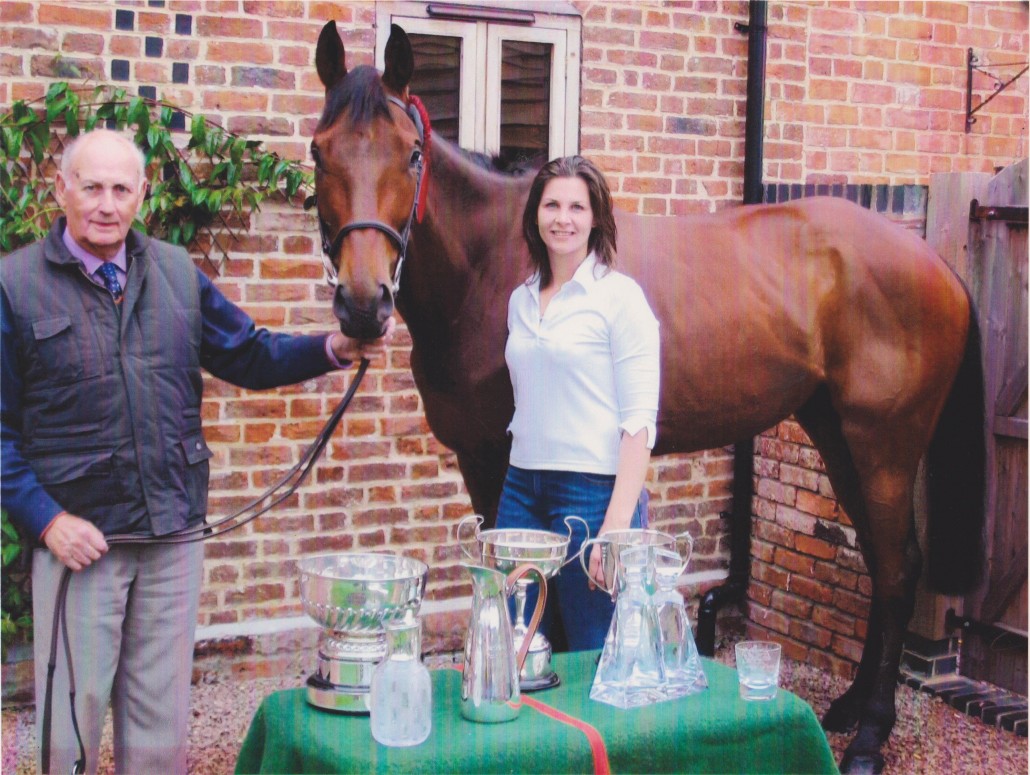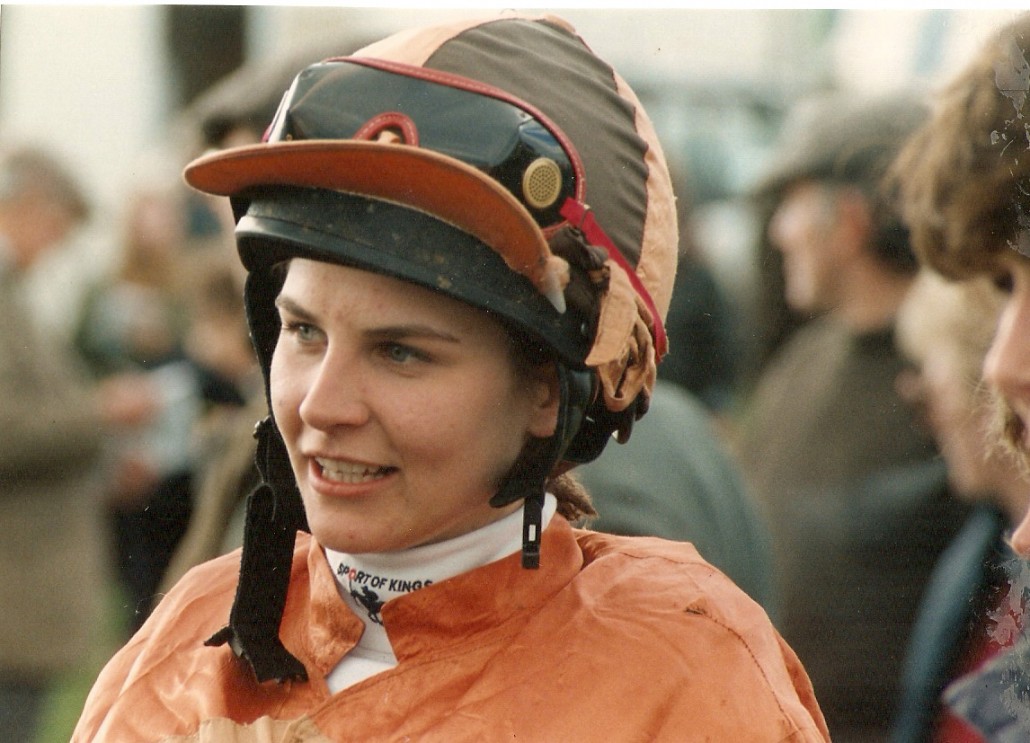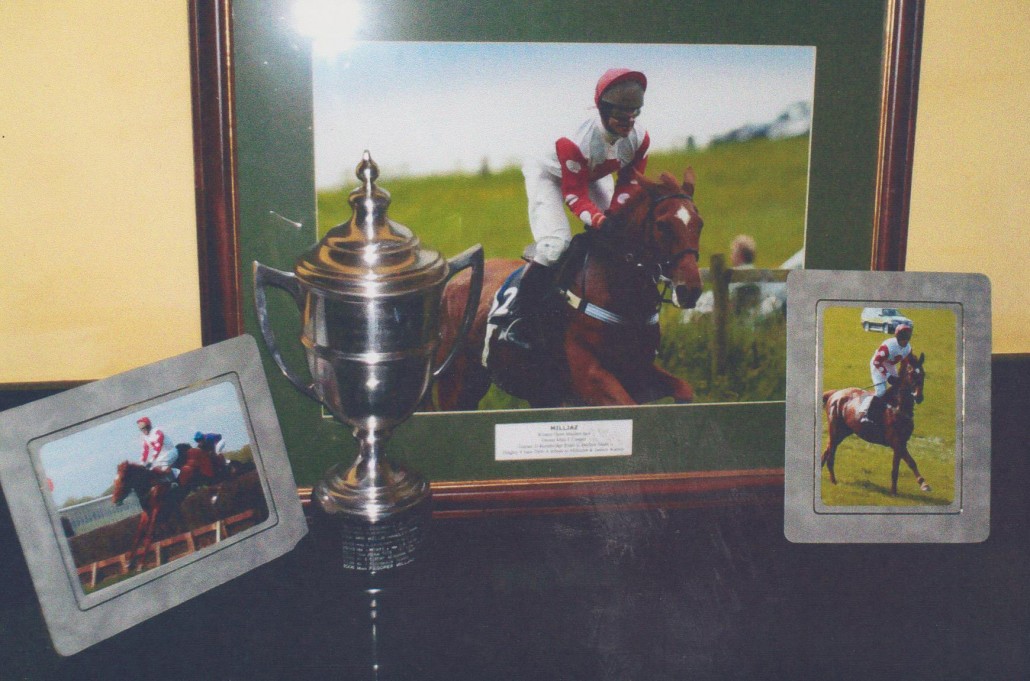 Since 2008 I have concentrated on establishing Redheart Appaloosa Stud, promoting the breed, concentrating on my goals and it's certainly taken time! I finally feel The Stud is now coming together and people are understanding the Appaloosa is a BREED and not a COULOUR!
Our Bloodlines are based from America, from the descendants of the Nez Perce Indian Tribe, therefore it is without question our main breeding programme follows the Appaloosa Horse Club in America (ApHC) guidelines and regulations. Here in the UK, we have the Appaloosa Horse Club UK (ApHC UK) who is a daughter company to the ApHC, one of 22 International Affiliates. We agree to "Promote, preserve and protect the Appaloosa horse" and that's exactly what Redheart Appaloosa aims to do!
I've always admired, respected and appreciated the efforts the ApHC UK Directors put into running the this fantastic Club and felt the time was right to give the Club something back. In 2019, I am delighted to now be one of 5 Directors of the ApHC UK, it certainly is a very prestigious position and I'm enjoying every minute with my fellow Directors – Auriol Thorne, Elisa Spivey, Kim Sands and Sue Feast.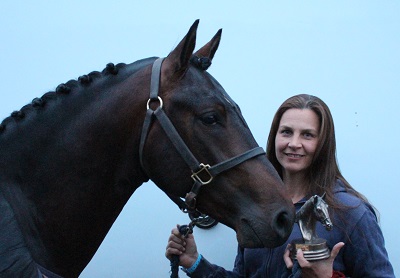 Paula Cooper
Appaloosa Horse Club UK (ApHC UK) - Director
Red Heart Appaloosas
"The ApHC UK are pleased to announce a Special Award for commitment to promoting the Appaloosa in the UK as well as attending all the Club's shows in 2014, this award has been presented to Paula Cooper with her Foundation Appaloosa colt Redheart Catorrius".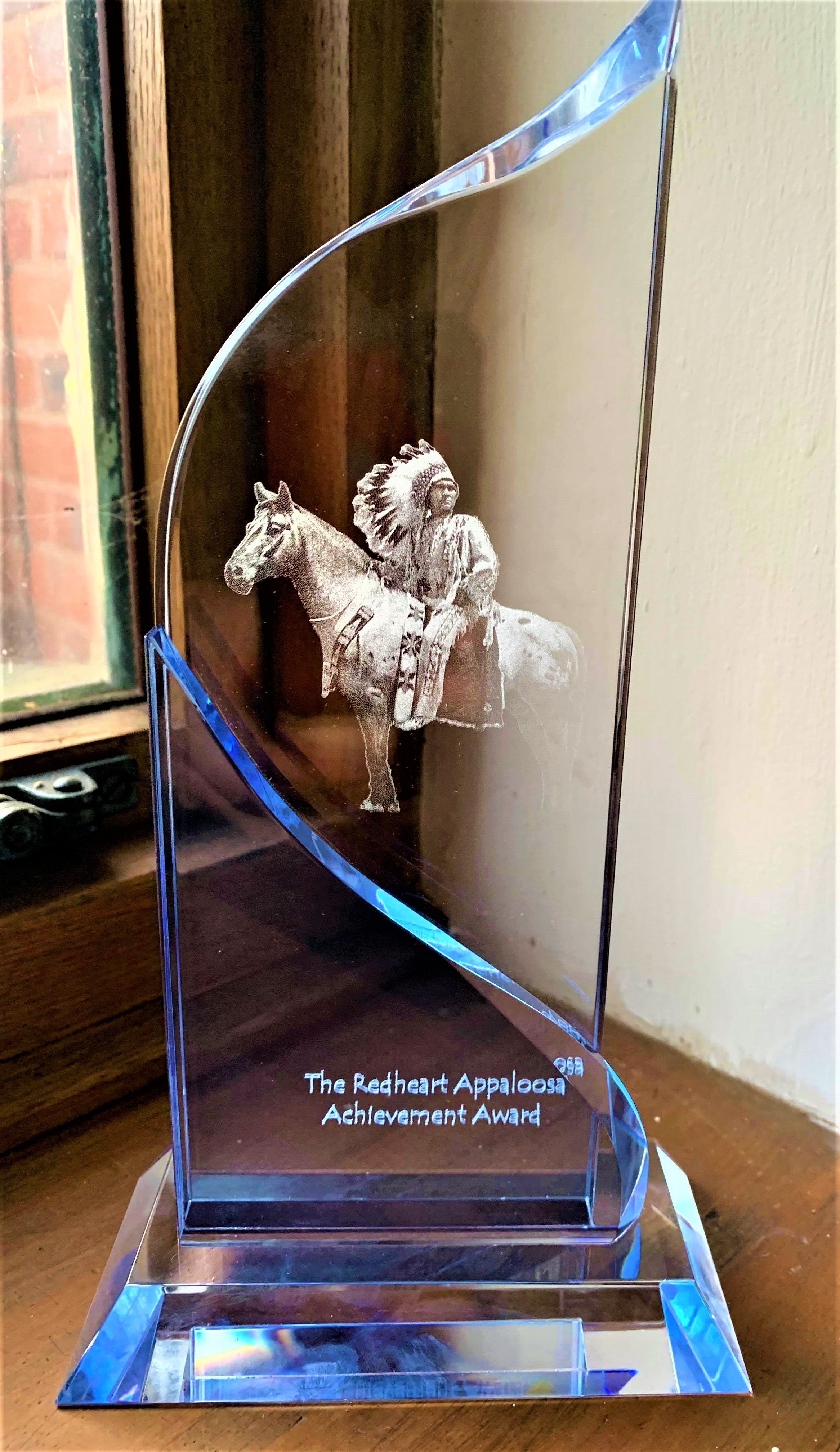 The ApHC UK Achievement Award
Donated by Redheart Appaloosas
Red Heart Appaloosas
The ApHC UK Achievement Award
Red Heart Appaloosas
This award has gratefully been donated by Redheart Appaloosas; a beautiful glass trophy hand etched with what Paula Cooper feels is an appropriate image that we can all relate to – the beginning of the Appaloosa.
This is a Nez Pearce Indian called Jesse Redheart upon his mount Easter Bar. "Jesse D. Redheart II was born Nov. 7, 1926 and passed away in 2010 at eighty-three years old. He was a direct descendant of Chief Redheart. He raced, showed and paraded his stallion, Easter Bar.
Jesse retired in 1988, he was a representative for the Appaloosa Horse Club and is featured in the museum in Moscow, USA. He accomplished a lot during his life which included a documentary for a Japanese film company throughout Montana, Idaho and Washington, covering the Nez Perce Trail on horseback.
The Nez Perce people meet each year to remember their ancestors who suffered on the green fields at the Fort Vancouver National Site, the place where they were held prisoners through the winter of 1877-78 when the U.S. Army attempted to remove the tribal members from their ancestral lands.
They share stories of their ancestors and commit to ensuring their young carrying these stories for the future.
In 2001, the meeting shared a memorably service in honour of Jesse Redheart, the Nez Perce tribe members marked his passing."
Redheart Appaloosas have donated this beautiful crystal glass trophy, hand etched with a Nez Perce Indian called Jesse Redheart upon his mount Easter Bar.
This is an annual Achievement Award, introduced to recognise those who have not necessarily given outstanding service to the ApHC UK but a recognition of a member by ApHC UK members nomination.
Redheart Appaloosa Stud – Wins Horse Breeding Specialists of the Year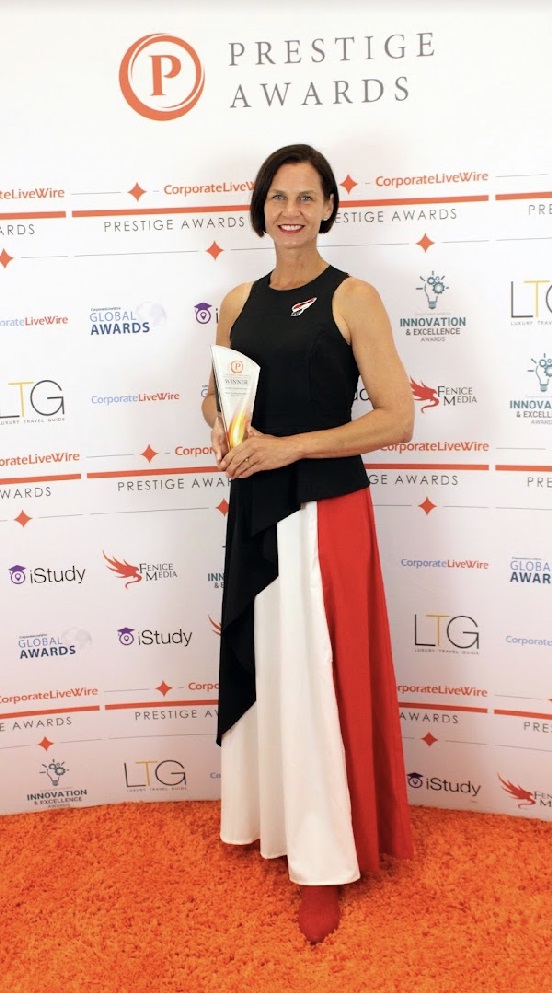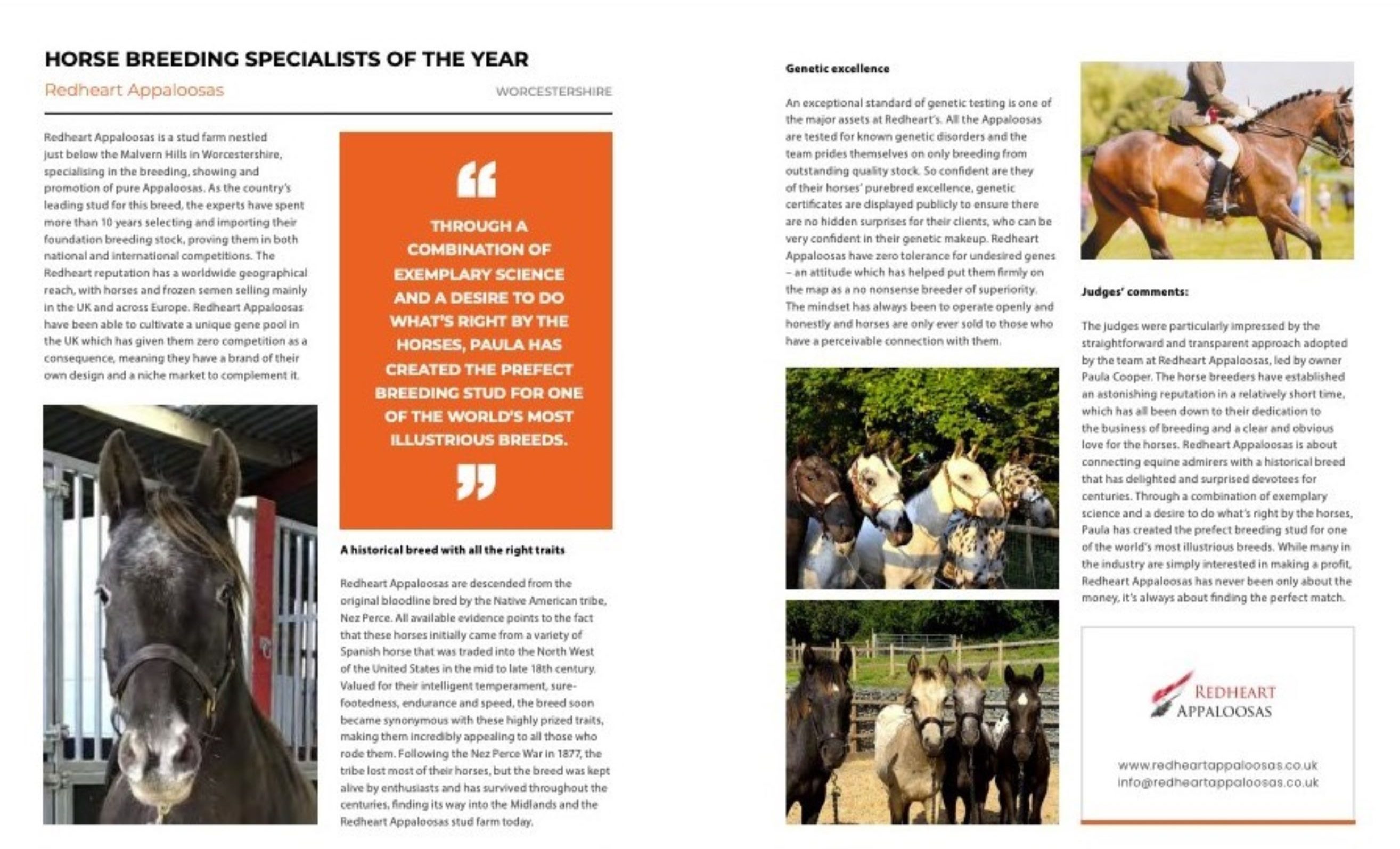 Redheart Appaloosa Stud – Wins Horse Breeding Specialist 2023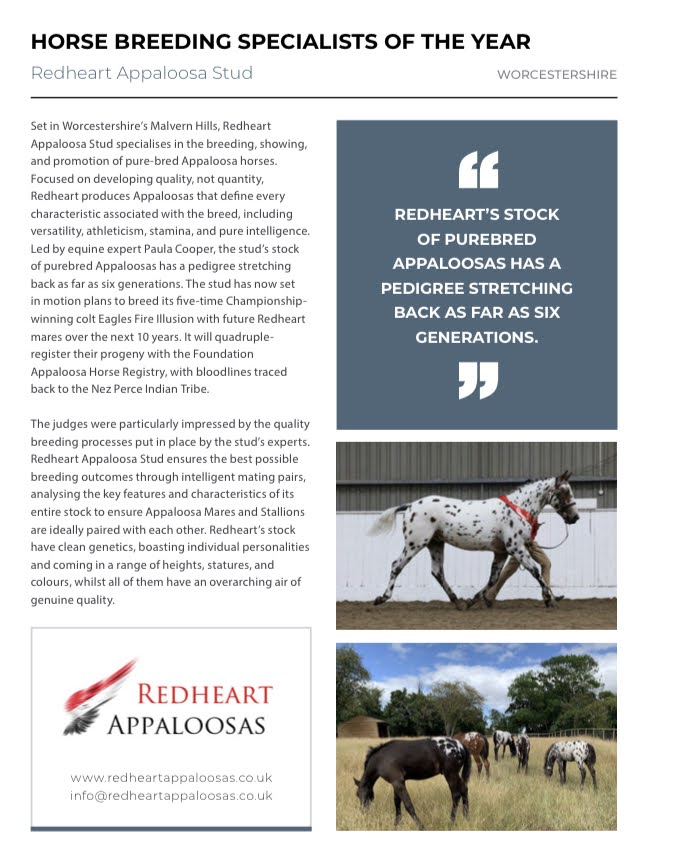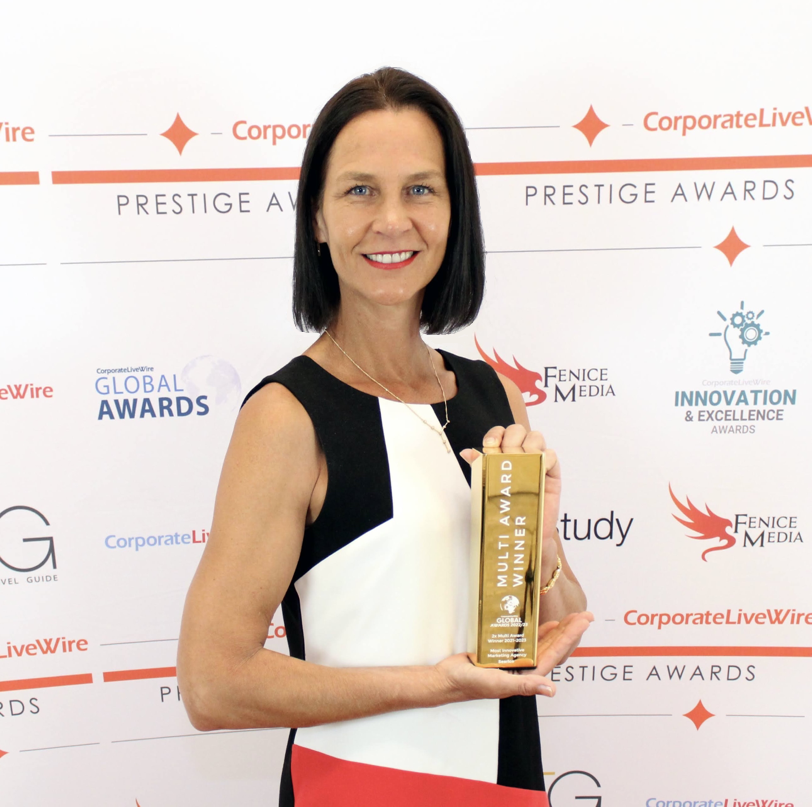 Absolutely over the moon to receive recognition for breeding Foundation Appaloosas in the UK, I couldn't do it without the support from my partner Antony and my daughters Jasmin and Millicent.
The word ecstatic doesn't even cover our joy to be named Specialist Breeder for the second year and to receive a lovely gold award to mark the occasion is like spots on an Appaloosa!
We pride ourselves on breeding Appaloosa's x Appaloosa's, keeping out the permitted breeds of Arab, Quarter Horse and Thoroughbred here in the UK.
Our journey has been mentally supported by my family, educated by Three Counties Equine Hospital for the last 16 years but most of all driven by The Redheart Family.
Our plan has always been to create a herd producing quadruple registered foals, supporting the British Appaloosa Society, the Appaloosa Horse Club UK, the Appaloosa Horse Club USA, and the Foundation Appaloosa Horse Registry. Taking our bloodlines back to the Nez Perce Indians and supporting the ethos of the Breed Registries.
The British Appaloosa Society.
"In 1987 a grading system was implemented, which made provision for a six generation "journey" to stud book status.
Present day, 21st Century now sees our sixth-generation horses currently being produced and it is exciting to consider that we are now breeding the first acclaimed pure-bred Appaloosa in Britain."
The Appaloosa Horse Club UK
"The ApHC of America was formed in 1938 by Claude Thompson of Oregon in order to preserve the wonderful Appaloosa horses in America that were originally selectively bred and cultivated by the Nez Perce people in the nineteenth century. The ApHC is today recognised as the international 'mother' society of the Appaloosa breed."
The Appaloosa Horse Club USA
"Famous explorer Meriwether Lewis was appropriately impressed with the breeding accomplishments of the Nez Perce, as noted in his diary entry from February 15, 1806.
Their horses appear to be of an excellent race; they are lofty, elegantly formed, active and durable…some of these horses are pied with large spots of white irregularly scattered and intermixed with black, brown, bay or some other dark colour."
The Foundation Horse Registry
FAHR is the only by-blood registry for the Appaloosa, promoting breed development through selective breeding in hopes of reaching the lofty goal of our founder, breed discovery and breed recovery.
To Protect, Preserve, Perpetuate and Promote the bloodlines of the true Appaloosa Breed.
Here's to an exciting future as we aim to fulfil our breeding programme!