Awaiting the following cycle after her foal heat, Peyres Catori Cat was booked in at Three Counties Equine Hospital LLP for an Artificial Insemination (AI) package with the semen from RDF Ti Kha Atta Rain.
     Peyres Catori Cat had her 1st pregnancy scan today,
    which proved to be positive!
                    Princesse Pascale also had a scan to  confirm a
                    heartbeat and healthy maintained pregnancy  !  
As I look out across the field I see the mares happy and content, pregnant for 2015 and my two Kiss My Finest Heart fillies growing and enjoying life……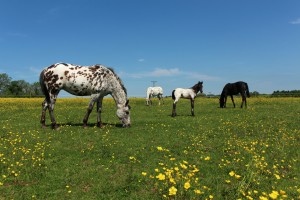 What a relief, very excited about the new arrivals out of Peyres Catori Cat & Princesse Pascale by RDF Ti Kha Atta Rain.