Eleni Randle from G Herbert Banks  (who has successfully obtained planning permission for two barns at the Stud within the last 12 months) has exceeded our expectations yet again!
We now have planning granted for a 20m x 40m ménage. In time our young stock will be under saddle and we will have the perfect place for schooling.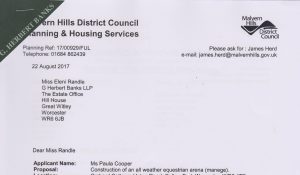 We have donated our 2017 Redheart winnings to Cancer Research and we were deeply touched when Eleni requested her last payment due was also donated to this worthy cause.
Thank you, G Herbert Banks