The FOREIGN BREED SOCIETY is a showing society for all Foreign Breeds in the UK.
Their shows cater for many different breeds such as Morgan's, Percheron, Comtois, Lipizzaner, Fjords, Arab's, Saddlebred's, Paso Fino, Andalucian's, Lusitano's, Friesian's, Falabella's, American Miniatures and Shetlands,  Icelandic, Haflinger and of course the Appaloosa etc. The Society also include part bred's so in a "nut shell"  the class's are "open" or can be breed specific and offer something from the inexperienced young stock to the experienced equines covering both in hand or ridden disciplines. 
So you can see why these shows appeal to us here at Redheart Appaloosas, not only do we qualify for more than one class, ensuring we gain any opportunity to improve our young horses experience but we get to meet some very interesting participants with some quite rare breeds.
Today we took Redheart Pascalius to Only Equestrian Complex for the Foreign Breeds Society Championship Horse Show. We were placed in all three classes, Foreign Breeds Youngstock, Home Produced and Appaloosa.
We qualified for the Purebred In Hand Championship and with a strong line up.
The Appaloosa took Reserve Champion behind the well deserved Champion Asalla, a Fjord.
Thank you for the photographs and congratulations to Jayne Bowen. x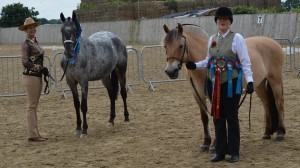 Purebred In Hand Champion Asalla
Owned by Jayne Bowen.
A wonderful day Supporting The Foreign Breeds Society……..