The Appaloosa Horse Club UK National Show is one show we greatly look forward to each year. A place where the Club members meet and share a common passion – The Appaloosa Horse, whether it be Purebred, Registered, Part bred or on the Characteristic Register, we support, help and encourage one another and share the highs and lows of our Appaloosa lives.
A huge thank you to all the helpers on the day and the Directors Sue Feast, Auriol Thorne, Kim Tuscany Sands and Elisa Spivey for their continued hard work behind the scenes x
Here at the Stud we've been very occupied preparing the horses for this annual event. Regent and Reality our two-year-old gelding's are experiencing a growth spurt, a time when they look very much out of proportion, so on this occasion we decided to leave Reality in the field and take Regent, Reus and Blu.
A very special thank you to Rachael Simmons, Katherine Pennels and Will Hunt for looking after the horses recently whilst we have been on our holidays!
Photography courtesy of Barbara Evans, Lian Wood, Virginia Rider and Simon & Anita Coates Simon Coates Photography xx
This was Redheart Regent second show and we eventually got him up to shower and braid and release him from his baby sitting task, we didn't expect the day to unfold so well!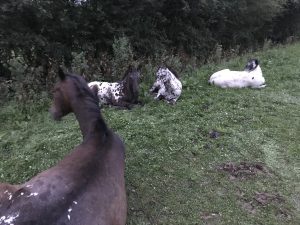 The first class was the "Most Colourful Other", where he picked up a 2nd place, his next class, Part bred young stock on the triangle, we were absolutely delighted with our partnership, he moved very gracefully around the cones and won the class, later, he won his gender/age class and took Reserve Champion Part Bred. We couldn't ask any more from this young man.
DFR Patahas Redheart first ridden show, anyone who follows us knows Blu was backed here at the stud late January this year, he was then ridden away by
a local friend Skye Houldsworth, at her premises for a few weeks before being turned away for 6 months. At the end of July we decided to bring Blu back into work, he was a total angel to get back on and continued to be ridden for two weeks by our very good friend Will Hunt whilst we were away on holiday, so, although only being in light work, we decided to see if Blu could replicate exactly what he was doing at home but under a "show" conditions.
Blu finished his in hand showing days last year, we decided to take part Saturday to "test the waters", before contemplating riding him on the Sunday. He stood very quietly watching the world go by with a junior Amelie House. However he did persistently try to grab his chain in his Stallion Classes but the main aim was for him to ignore all those horses around him… he passed!
Sunday brought us pure joy, such a well-mannered boy, although very green he presented the Judge with his huge soft personality and filled the atmosphere with smiles, I will never forget the cheer we received when he won his Ridden Youngster Class, so proud of him. The next class was a Walk/Trot Equitation which he passed with flying colours in our book as he stood next to and walked passed two mares, a fantastic start to his ridden career as a stallion.
Working full-time doesn't really allow you to run a stud and school the ridden horses but we do our best! Reus gets ridden as often as possible and occasionally schooled on a flat piece of common land on the Old Hills, so it's not his fault he's not as well schooled as he should be (we are desperate to get our manège constructed ASAP) but throughout the year we have made the most of any local clinics offering pole work and or flat work. It certainly has paid off, Reus is certainly starting to make a nice shape and gave us some nice moves.
Reus is in his second year, being ridden in English and Sunday was our first test in the ring over a jump, albeit only 2ft6 he certainly gave it some space! He won his class, executing a basic pattern before and after the jump. Happy Days!