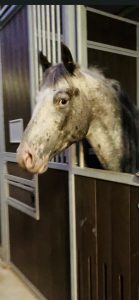 Its been twelve days since our stallion DFR Patahas Redheart entered the Stallion AI centre, they collected from him seven times and he's averaged 8 doses per collection, his semen is of a small quality being less than 10ml per collection, seriously concentrated!
It is a long process to get the health papers, both pre and post, we have two weeks to wait before he can have his first post collection  CEM swabs taken, a further seven days before the second post CEM swabs and then a further seven days before we have the results. Only then will his frozen semen be validated for sale and shipment for the UK and Europe.
He certainly looks very well, the Stallion AI Team have taken great care of him. We are very happy to have him home although I believe from the staff reports he certainly enjoyed his holiday and behaved impeccably, as expected.
On his arrival home, he certainly had a lot to tell Reus…
Everyone likes a goody bag, such a nice touch 🙂