Let me introduce you to Katkin 2, a Section A gelding about ten years old that belongs to my daughters, Millicent and Jasmin. They love him dearly and he will stay with us until the end.
He experienced a trauma in his younger days and so we keep him as a lawn mower. He has no other use until now.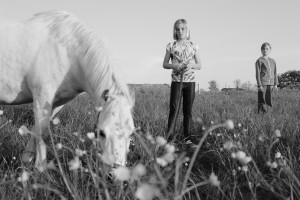 Since Reus was weaned he always has been in his own secure paddock with a view of the girls, Katkin on the other hand has been kept on a postage stamp of grass due to him being such a good doer. The girls only treat him as a pet.
Now the grass has gone and we have been left with a muddy winter paddock (keeping Reus paddock clean for the spring) I decided to introduce Reus to Katkin. They have met over the stable door on many occasions with a lot of shouting and screaming. Katkin is a very dominant pony and I didn't want Reus to get hurt but on the other hand Katkin doesn't deserve a hormonal colt playing a little too rough with him.
Today I took Reus out into Katkins paddock on a lunge line, it was very entertaining as Reus insisted on wanting to "play" with Katkin, a colts play is unique and was not welcomed by Katkin who constantly reprimanded him. Its was at least two hours before I let Reus go and was happy that they would play "nicely". Eventually Katkin gave Reus "what for", thank fully no injuries and Reus has been put down the pecking order.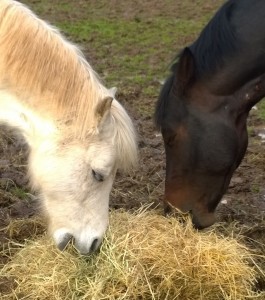 Best friends…..
Never did I think Katkin would be the Boss, none the less they are both living a happier life and are now like two old men…….