Today we travelled to the Royal London Show held at Onley Equestrian Centre near Rugby.
Our first visit to this show ground was five years ago, each year structural improvements have been made but this year I can honestly say the development has increased the premises to a higher standard.
The schedule offers many classes to suit the "spotted" horse, we have successfully competed Peyres Catori Cat and Princesse Pascale in earlier years but Reus doesn't fit the criteria – No Spots.
Foreign and Rare Breeds in hand young stock.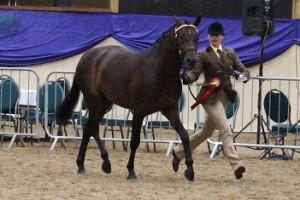 Delighted to say we won.
 We were unsuccessful in the evening under spot lights with loud music but we had a very enjoyable day.