The birth of my third Appaloosa!
After nights of foal watching, Peyres Catori Cat finally got down to it! At 8pm Catori was looking extremely uncomfortable just as my children were going to bed….What an excuse to stay up late!
By 9pm two brown feet, followed by a brown head appeared and within seconds a white body surprised us all!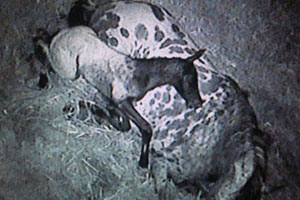 Later we quietly walked to the stable to meet Easter, delighted to say it was a filly, just what I "ORDERED".
After a thorough examination, "hand printing" session we ensured nursing was achieved before checking the placenta.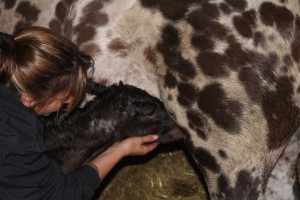 Leaving them to bond and put the children to bed…..
She will have a family home for life and the best possible chance of a showing career before becoming a proven quality mother herself!
On this day we also celebrated the birth of Evee, she is one year's old today!