So last weekend, our repro vet Mark Georgetti gave us his time, his patience and his expertise by sex scanning our three mares at around 60 days. We would like two fillies to continue our breeding programme with the semen stored from Hevans EV Catorrius (Reus). The only mares unrelated to him are Princesse Pascale and Caricks Redheart. You cannot breed two non-characteristic Appaloosas's, (maybe one day the rule will change) therefore our fillies need to be heterozygous or homozygous.
We have inseminated all our mares with fresh semen from DFR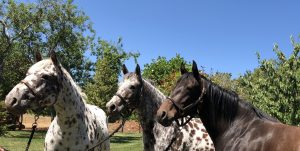 Left to right, Princesse Pascale carrying a filly, Peyres Catori Cat carrying a colt and Caricks Redheart also carrying a colt.
The 60-day ultrasound identified our mares are carrying single live fetuses. Mark was very patient to find the view required and eventually the genital tubercle was located.
We are grateful our mares are in foal and the foetuses are "single" and "alive", we pray the gestation and births follow suit!
Peyres Catori Cat, who is Reus' dam is carrying a colt and Caricks Redheart is also carrying a colt.
Princess Pascale is carrying the next future Redheart filly, how ecstatic are we?
We await Redheart Pascalius's (Reu's half-sister) sex scan at the end of the month, our GAP 6 foal is definitely a filly or a colt though!!!!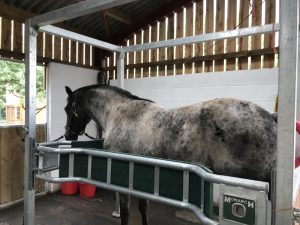 At 61 days gestation, our last mare Redheart Pascalius (Evee) has been sexed scanned.
The live scan definitely showed a filly but the picture I took looks like a colt, so time will tell.
Redheart's first GAP 6 foal (six generation of Appaloosa x Appaloosa breeding).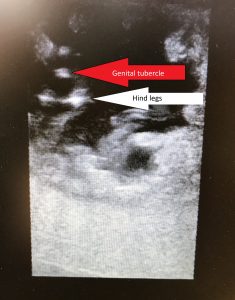 The genital tubercle (which eventually will become the penis in a colt and the clitoris in a filly) develops on the midline of the fetuses, between the hind legs. The structure moves towards the umbilicus in a colt and toward the anus in a filly.