We have many factors involved in our breeding programme, we are only at the beginning. Below (in no particular order) are those factors achievable, parallel to confirmation and a performance record. I consider I have bought a future Stallion and semen from three of the most knowledgeable, trustworthy and respected Appaloosa Breeders within Europe.
Plans can change over night, personnel circumstances can change, accidents can happen but at the present moment we are here…..
 UNIQUE GENE POOL WITHIN THE UK
When we started breeding we wanted to create a new gene pool within the UK. There are many quality Appaloosas available for sale and at stud within the UK but to enhance a blood line would become a challenge as many are related. Thus the importation of our mares and future stallion.
THE GENETICS
Having learnt so much about this topic, it is only recently we realise with the development of the PATN1 gene test that we can confidently say moving forward we require a Stallion with LP/LP and PATN1/PATN1 to maximize our chance of producing loudly patterned foals.
We have taken our chances by breeding heterozygous x heterozygous (LP/lp) and bred some fantastic breeding base stock. Because of this we have secured a few years worth of Kiss My Finest Hearts semen to enable us not only to breed full siblings but with a chance of continued quality base stock for breeding purposes only. It is our aim to keep the fillies and sell the  colts, the odds of this we know are 50%/50% !!!!!!
Regarding our colt Hevans EV Catorrius, as a potential Stallion, he is not suitable to cover any of the Redheart mares. Not only is he related but the only female suitable would be Princesse Pascale and I do not want to dilute her blood line despite his outstanding performance record.
However, he does have a major role to play here at Redheart Appaloosas with his result from Davis being PATN1/patn1. Pending his Stallion license, we will plan to look for his future wife/s. A possible Few Spot or Snow Cap (LP/LP), PATN1/PATN1 filly/mare. With 100% FPD and a high percentage of FAHR blood line, along with great confirmation and a possible performance record?
Does such filly exist? We await his license before we get excited on this note….
THE FOUNDATION PEDIGREE DESIGNATION PROGRAMME (FPD)
An Appaloosa horse entered in the FPD programme must have 30 out of 30 horses in its first four generations of Appaloosa breeding to qualify at 100% FPD.
Therefore we realise 100% FPD is another goal to continue with. Princesse Pascale and Redheart Pascalius are both 100% FPD. To achieve a standard of producing 100% FPD foals it is vital we continue to proceed with 100% FPD Stallions.
Peyres Catori Cat is 90% FPD, only her grandchildren will meet the 100% FPD status. With her first filly on the ground, Redheart Cateaster at 97% FPD it is possible and in sight. It's a long journey to obtain another generation of 100% FPD from this blood line but in my eyes it is well worth the wait.
Reus is 97% FPD and will only be crossed with 100% FPD mares to obtain any future foals to be sold as 100% FPD.
 THE FOUNDATION APPALOOSA HORSE REGISTRY (FAHR)
Learning about FAHR was a wonderful insight into the history of the Appaloosa. Peyres Catori Cat and Princesse Pascale are not eligible for this registry because their blood lines relating to the original Nez Perce Foundation horses are less than 75%. I feel quite passionate about this blood line, making every effort to enhance the percentage to produce FAHR eligible foals.
We have our first FAHR eligible foal at Redheart Appaloosas named BEN . Pending registration Redheart Royale  out of Princesse Pascale by RDF Ti Kha Atta Rain.
Our future Stallion will consistently produce FAHR eligible foals and we feel another goal has been achieved.
TRIPLE REGISTERED
Appaloosa Horse Club USA (APHC)
Appaloosa Horse Club UK (ApHC UK)
British Appaloosa Society (BApS)
When we started showing Peyres Catori Cat and Princesse Pascale we realised the potential of opportunities available in the showing / competing world.
When it comes to young stock the in hand classes are endless, having an Appaloosa that is triple registered opens many doors from National Breed Shows, Regional Show and the Agricultural/County level shows. We are also members of The British Show Horses Association, Western Equestrian Society, Sports Horse Society, United Saddlebred Association and a few more which allow us under one or more of the triple registration to compete in Foreign Breed Classes, Sports Horse, Hunter and many more.
If you wanted to go showing every weekend with an Appaloosa then it's possible. The future of a Triple registered Appaloosa has huge advantages and another box we like to tick in our breeding programme.
 PERFOMANCE & CONFIRMATION
All our base stock have and will undergo a thorough examination under the Judges eye. An accumulation of Class Wins, Reserve Championships, Championships, Supreme Championships, Register of Merits (ROM), National status and Breed Registry Point awards have been achieved.
These horses have proven their selves to be suitable for quality breeding, by their own merits.
GENERATION ADVANCEMENT PROGRAM (GAP)
This is a programme through the APHC to promote Appaloosa x Appaloosa breeding. It requires two 100% FPD Appaloosas to be breed from. The resulting foal can then enter the programme at G5.
Redheart Pascalius is eligible and will be enrolled. Our future stallion is also eligible, therefore the future with Princesse Pascale's off spring and Redheart Pascalius's  blood line will continue with GAP 6 eligible foals.
Ben is also eligible for the GAP 5 status, he will be enrolled and if kept as an entire his progeny will be eligible for GAP 6 if he is crossed with a 100% FPD mare.
In honour of our first GAP 5 foal for sale, we bought Ben a number plate for our horse lorry!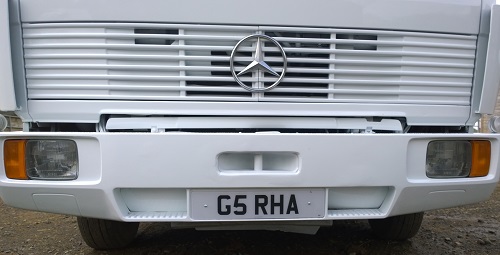 G A P  5    REDHEART APPALOOSAS