There is something very special that I cannot explain about being in the ring with my mother. I know she is proud of me and I know she is apprehensive about leading the babies. My mother completes the task without question and gives it her all. I am very proud of her and am thankful for her dedication in supporting me.

Back in the ring at Hartpury, my mother and I stood side by side in the BApS In Hand Grade Championship.
Reus was awarded Champion Grade A and Evee Reserve Champion Grade A .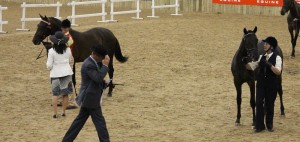 This Championship was not declared on the card and was very much a surprise and appreciated.
Thanks to The British Appaloosa Society for exceeding the possibilities of more awards.
This award has enhanced Redheart Appaloosas, giving us another opportunity of recognition for what we are trying to achieve.
 Preserve, improve, promote and enhance The Appaloosa Breed, along with every one else who has a passion.
Thank you.