The ApHC UK National Supreme Champion sponsored by Redheart Appaloosas.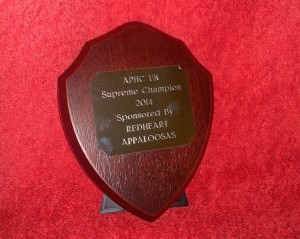 Delighted to announce the winner was Capitall Lola with Mrs Joan Sillitoe from Cumbria. Lola is a seven-year old mare out of Maybe by  Mannog Moonriver standing at  Monnog Appaloosas.
Lola didn't go home with Joan that day, she went to her new home with  Robinsong Appaloosas , good luck to them.
Joan Sillitoe with Capitall Lola